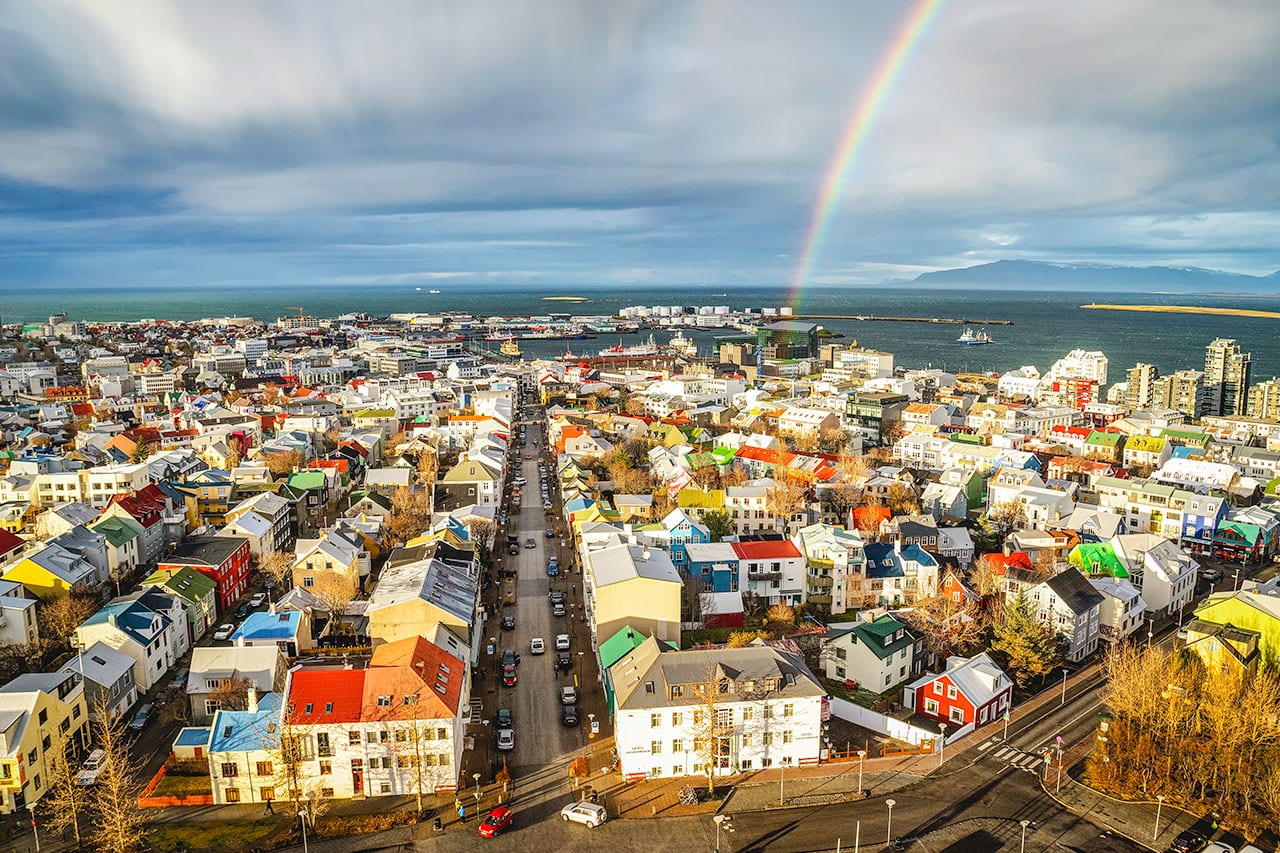 Best Things To Do in Reykjavík, Iceland
Reykjavik, Iceland
The city of Reykjavik Iceland is known for it's colorful homes, unique architecture, and wild nightlife. Here are some of the best things to do in Reykjavik during your visit!
Reykjavík may be one of Europe's most remote capital cities, but it has been known to surprise most new visitors, with a little something for everyone.
Iceland's capital is famous for its unique architecture, wild nightlife, strange museums, smelly traditional cuisine, and a few hidden attractions as well.
I've traveled to the city many times on different Iceland photography trips, often using it as a base for a few days before a big Icelandic road trip. There's a lot to do!
Because most travelers visiting Iceland spend some time in the capital, I wanted to recommend a few fun and unusual things to do in Reykjavik, no matter what time of year you visit.
Reykjavik Highlights Map
Best Things To Do In Reykjavik
1. Visit Hallgrimskirkja Church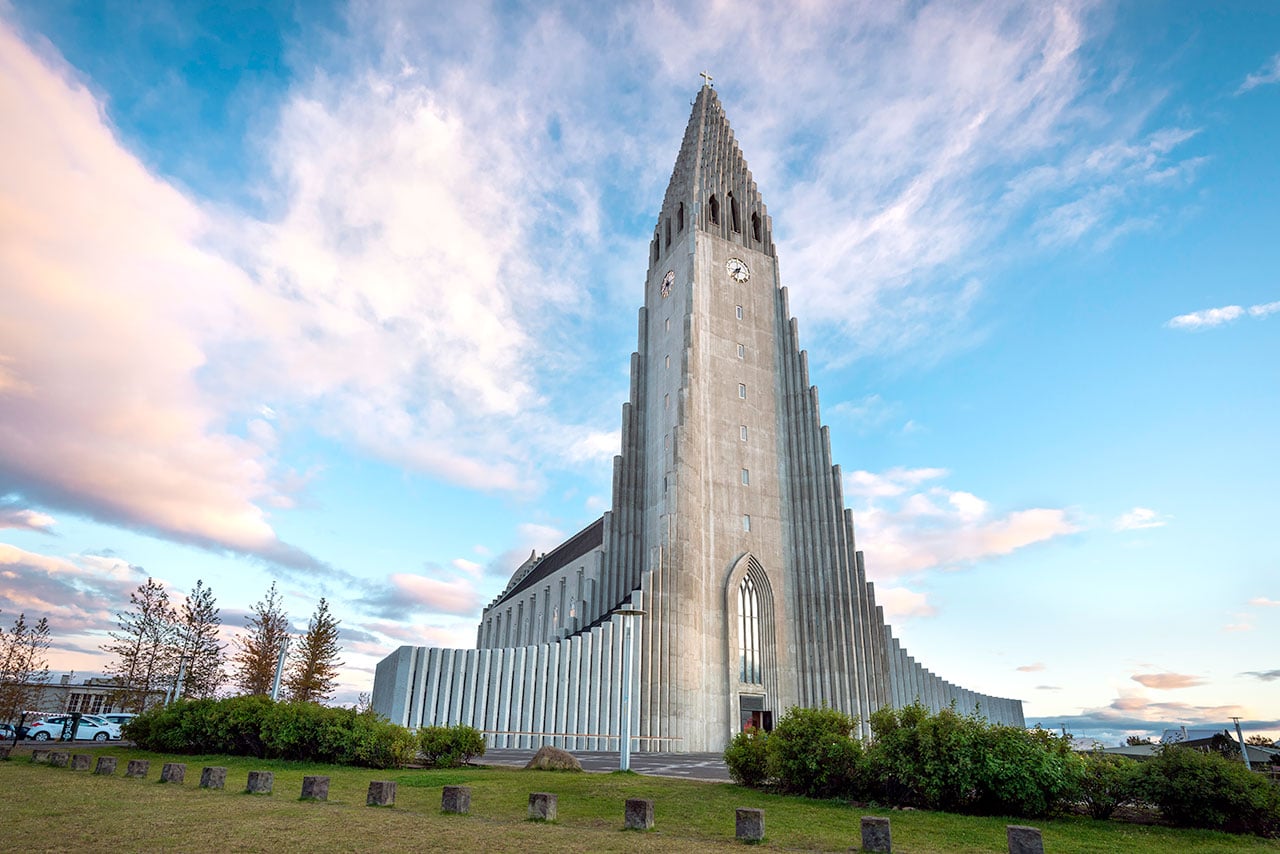 Hallgrimskirkja Church in Reykjavik
One of the most prominent buildings in Reykjavik, Hallgrimskirkja Church is pretty hard to miss. This very unique looking architectural masterpiece boasts a 74 meter tower that you can go up for excellent 360 degree views of the city.
The church is itself a monument to the famous Icelandic poet Hallgrímur Pétursson. You can visit most days, except during Sunday services or if there happens to be a special event/concert going on. The elevator to the top costs 900 ISK ($6 USD) for adults or 100 ISK ($0.70 USD) for children.
2. The Sun Voyager Sculpture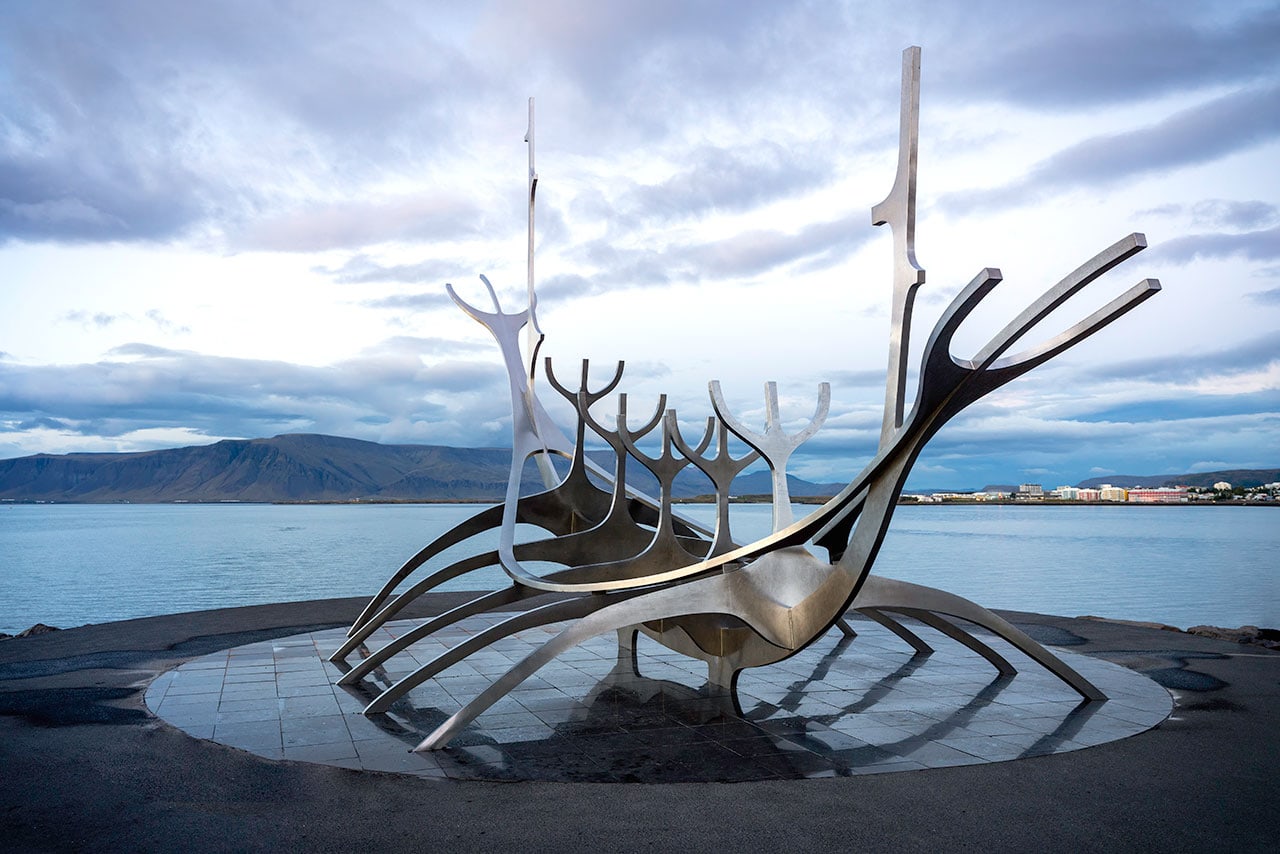 The Sun Voyager
One of my favorite free things to do in Reykjavik is walk along the waterfront to this beautiful metal sculpture that resembles a viking war ship (even though its not). The famous 'Solfar' or Sun Voyager sculpture.
This remarkable piece of art built by Icelandic sculptor is an "ode to the sun" symbolizing light and hope. One of the best times to view it is around sunset. You can reach it on foot heading East from Harpa Concert Hall.
3. Harpa Concert Hall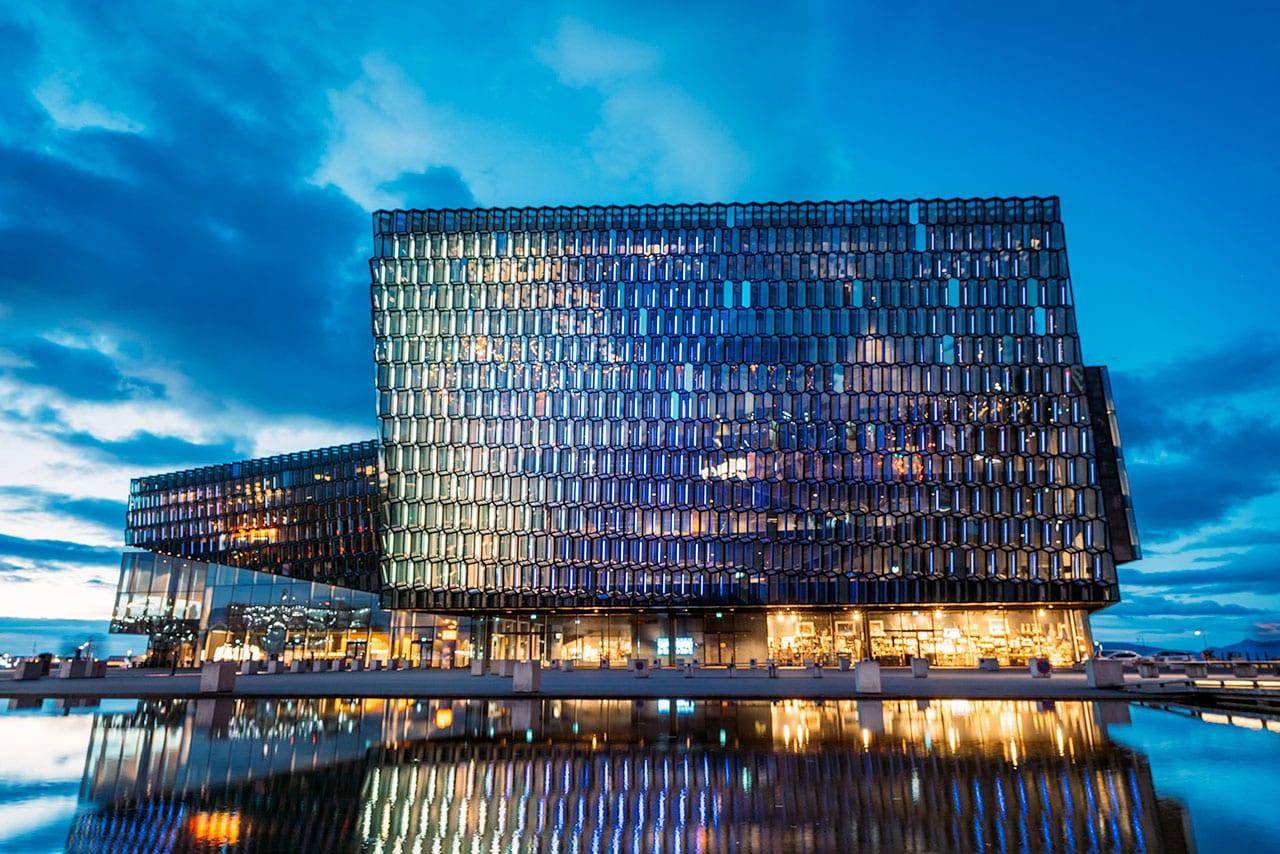 Beautiful Harpa Concert Hall
One of the coolest looking buildings I've ever visited, Harpa Concert Hall is completely made of glass — reflecting the Icelandic landscape, sea, and sky off its wild geometric design. This impressive structure is home to the Iceland Symphony Orchestra and the Icelandic Opera.
At night there are moving multicolored lights, making the building seem alive! Try to see a concert there, but if not, it's still worth going in and having a look around (which is free). Harpa is open from 8:00a to midnight. Make sure to walk around the backside by the docks too!
4. Eat Icelandic Hot Dogs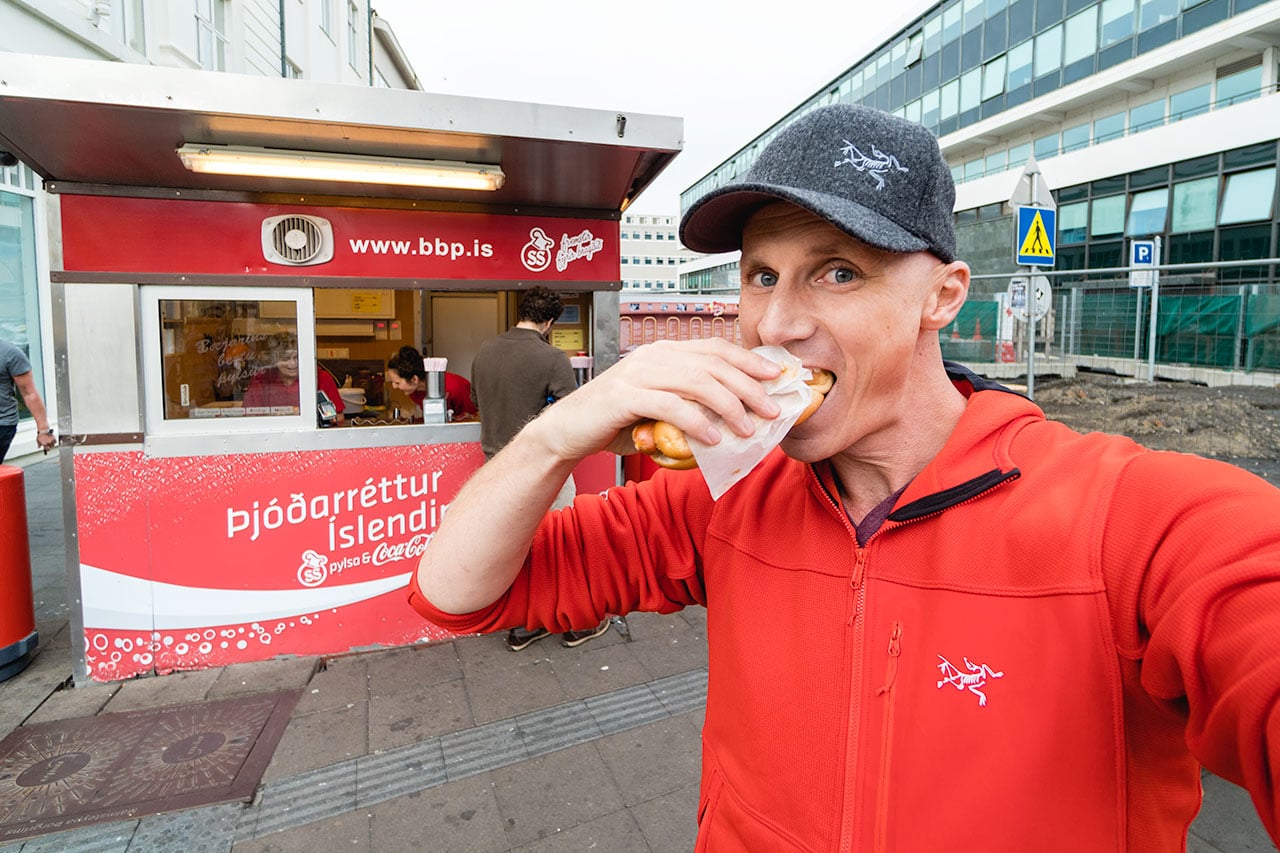 The Best Hot Dogs in Reykjavik!
Icelanders LOVE their hot dogs. In fact, the hot dog has been called the National Food Of Iceland. And if you want to give it a try, you need to check out the best hot dog stand in Europe — Bæjarins Beztu Pylsur.
This unassuming Reykjavik hot dog stand near the harbor produces some tasty ones. I make it a point to stop in and eat three on every trip to Iceland! Order "the works" which includes ketchup, sweet mustard, fried onion, raw onion and , a mayonnaise-like sauce with relish.
5. Attend Elf School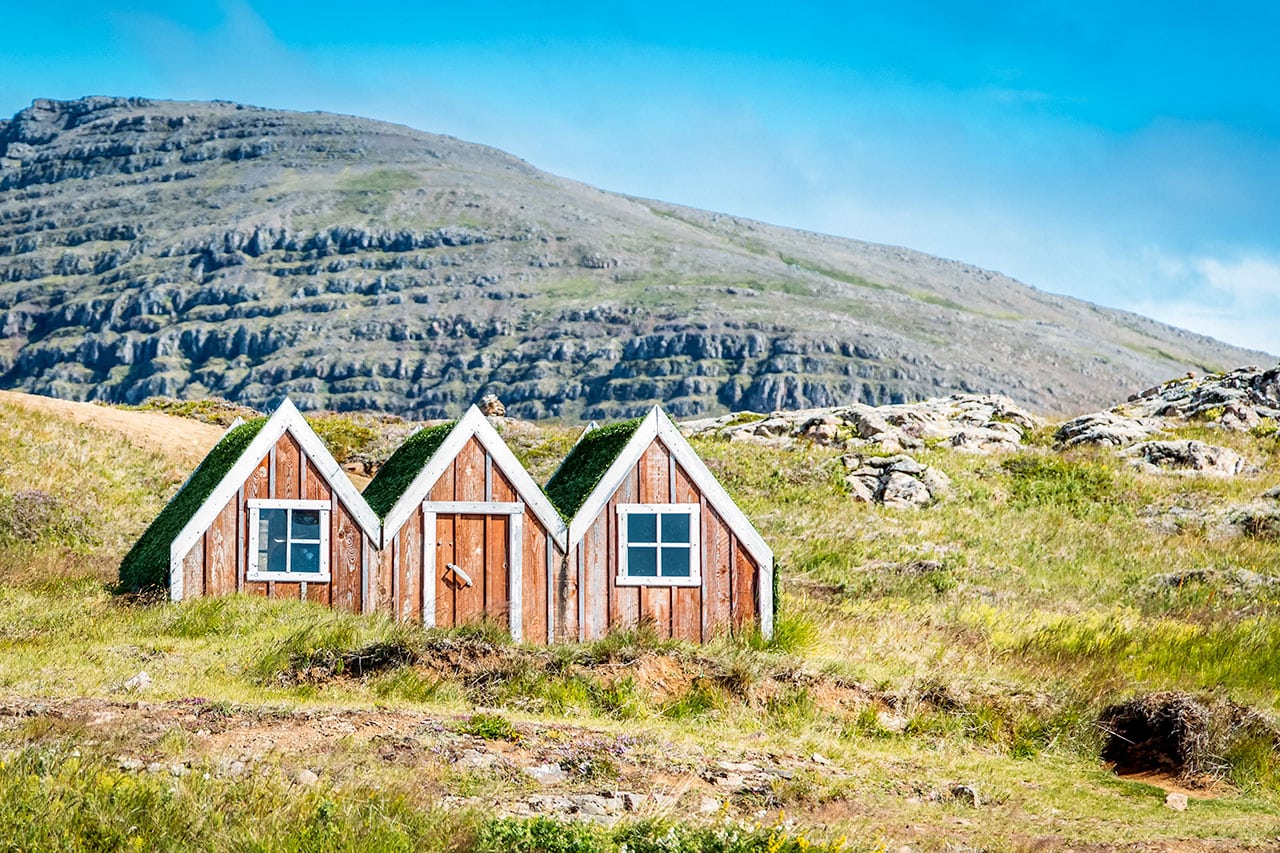 Learn Everything about Elves!
Iceland is a mystical and magical place with dramatic landscapes, active volcanoes, icy glaciers, and steaming mud pots. A perfect home for Huldufólk, or "hidden people" like elves & trolls.
Magnus Skarphedinsson has spent 30 years studying these mythical creatures in Iceland. Attending his Elf School in Reykjavik will teach you everything you ever wanted to know about wee folk. For example: there are 13 kinds of elf, 4 types of gnome, two varieties of troll and three species of fairy!
Elf school is in session on Friday afternoons in Reykjavik, classes last 3 hours, and cost $64 per person (with tea & pancakes included).
6. Icelandic Phallological Museum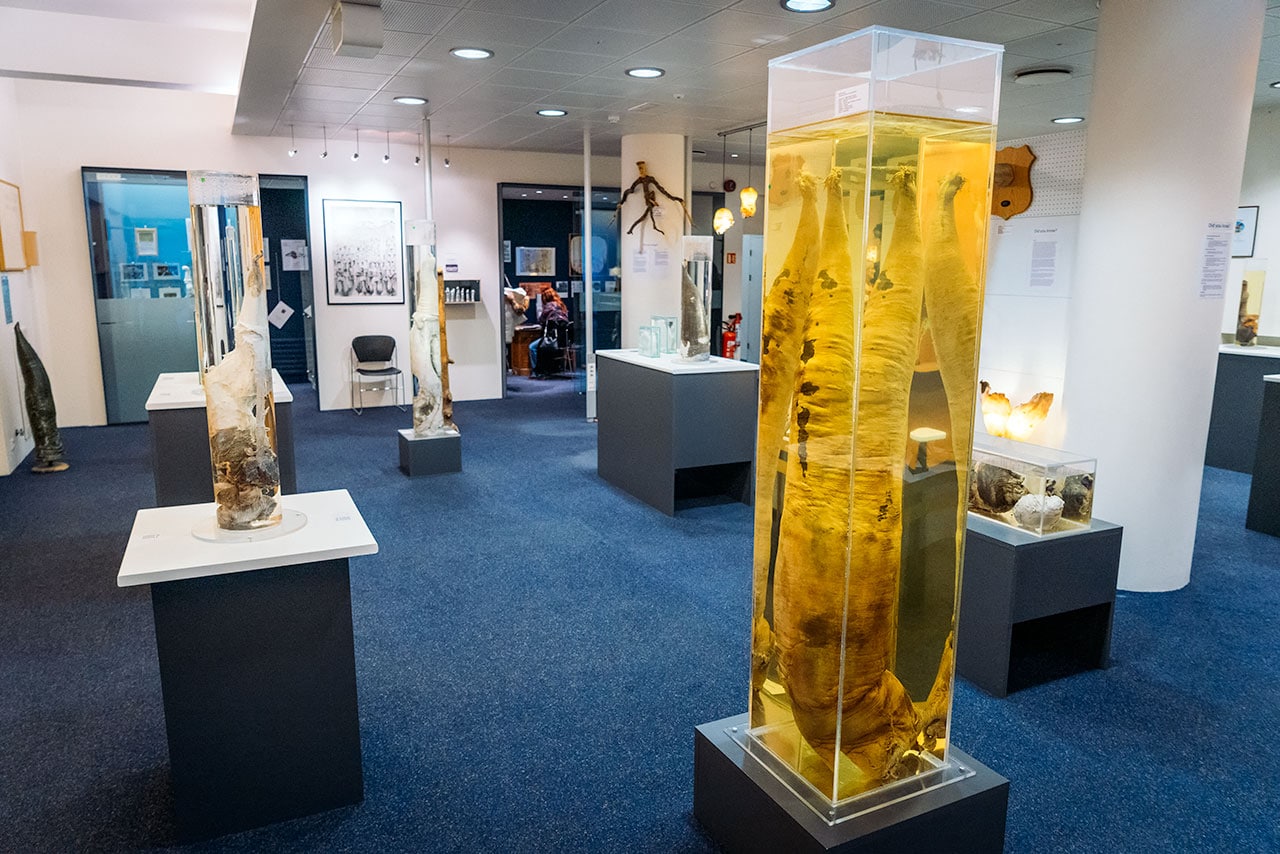 Now That's a Big One!
Yes, it's a penis museum. An odd attraction in Reykjavik for sure, but totally worth a stop if you enjoy eccentric places (like me)! Iceland's Phallological Museum boasts 282 penises from 93 different species of animals, including humans. A fun stop for a rainy day in the city.
The largest ones are from whales, the smallest ones are from elves of course. The museum is a mix of serious scientific study, and tongue-in-check humor. While there are specimens of all shapes and sizes sitting in glass cases, there's also a robot dude in a trench coat with a motion sensor who flashes you.
7. Crazy Icelandic Nightlife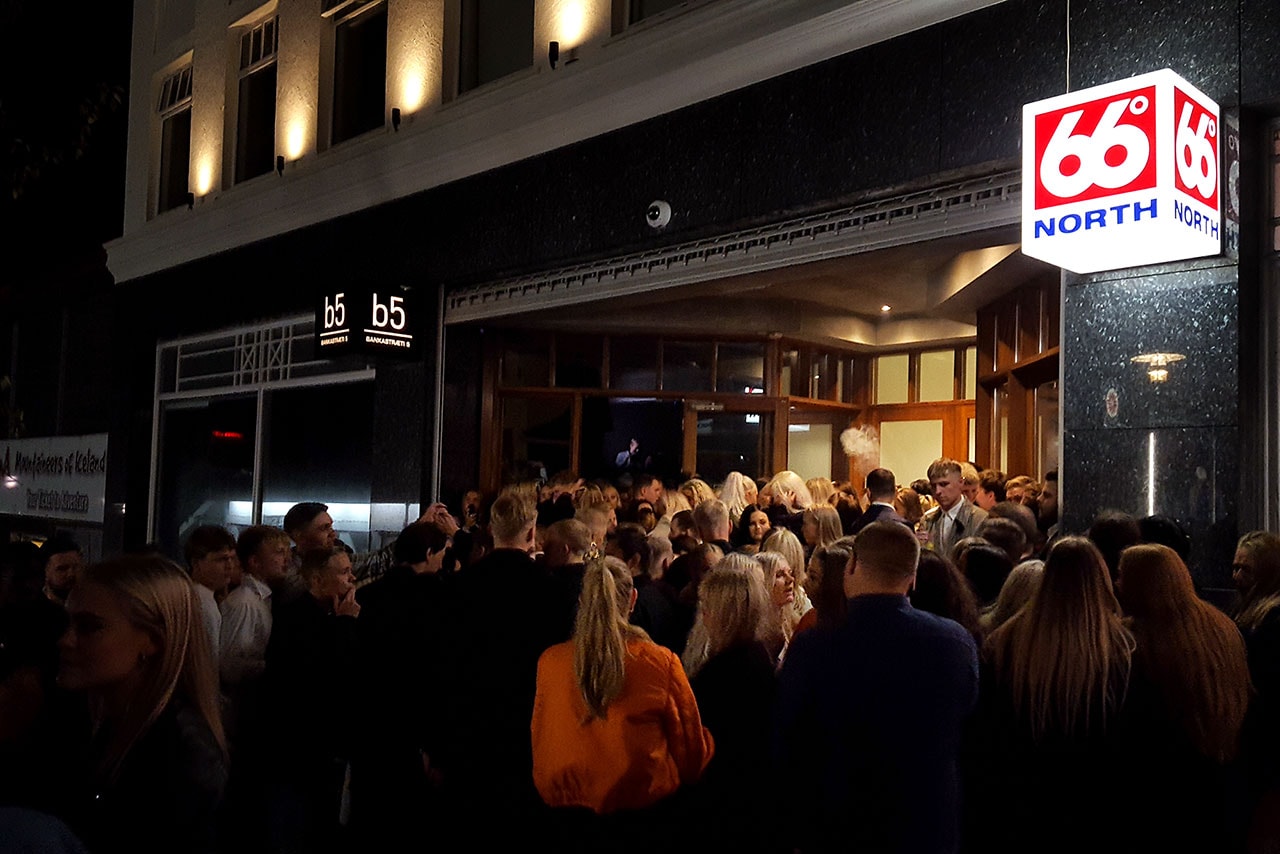 Bars & Clubs in Reykjavik are Hopping!
For such a small city, Reykjavik has awesome nightlife. The downtown area's nightclubs and bars are open late (until 5:00am) on weekends. Everything is based in a central location, so it's easy to bar hop from one place to the next on foot. My favorite bars in Reykjavik are Kaffibarinn, Kaldi, and the fancier B5.
Iceland is also one of the safest countries in the world, so you can relax and party safely without worrying as much as you might when traveling to other countries. Reykjavik is home to a bunch of cool music festivals too, like the annual Iceland Airwaves in November.
8. Visit The Saga Museum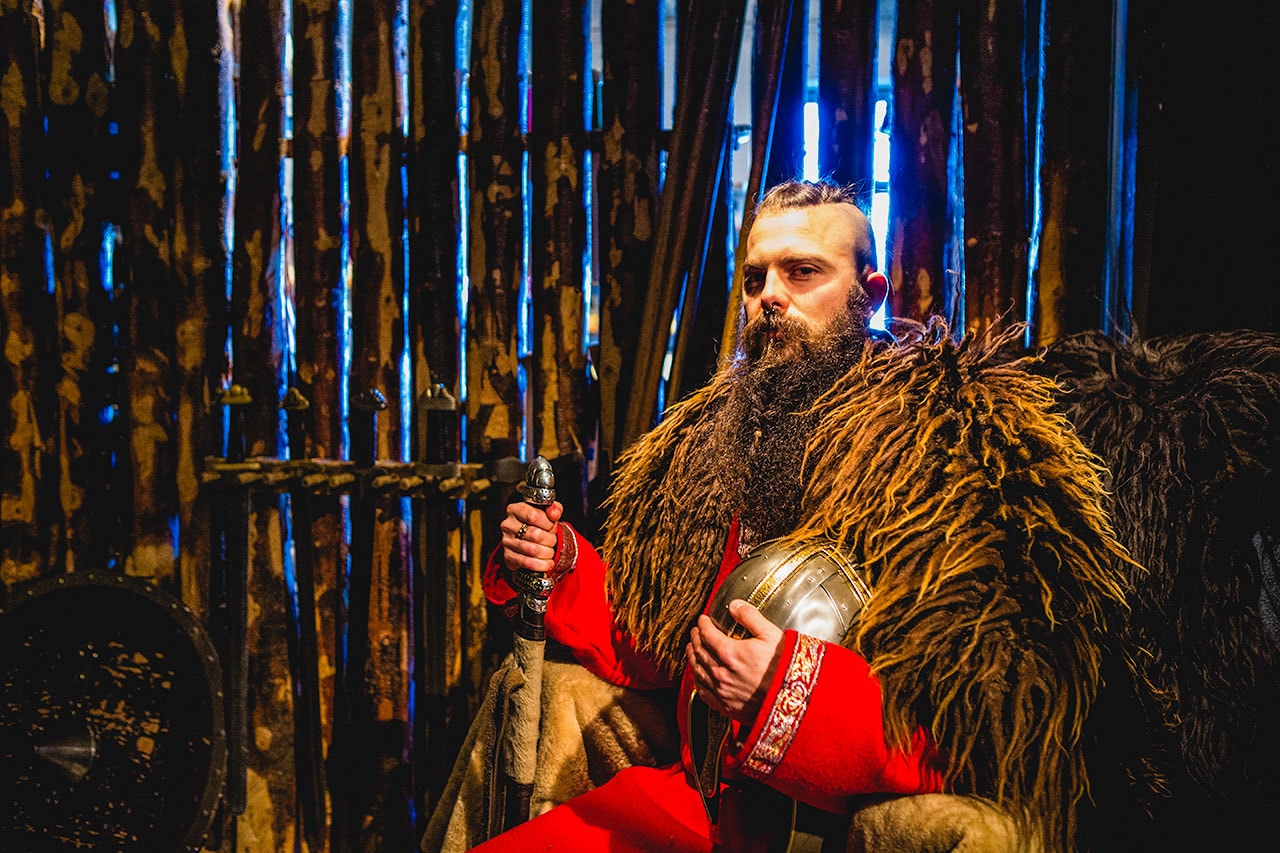 Learn about Icelandic History
Want to learn more about Iceland's fascinating viking history? Stop into the Viking Saga Museum located in Reykjavik's Grandi neighborhood. They've recreated some of Iceland's most important moments in history using life-like wax figures.
You get to learn what life was like for the first settlers here, through the use of a self-guided audio tour. At the end, you can dress up in some viking clothing for photos too! It's pretty fun and gives you a glimpse into Icelandic history. For example, did you know Iceland was discovered by lost sailors trying to reach the Faroe Islands?
9. Feed Birds At Tjörnin Pond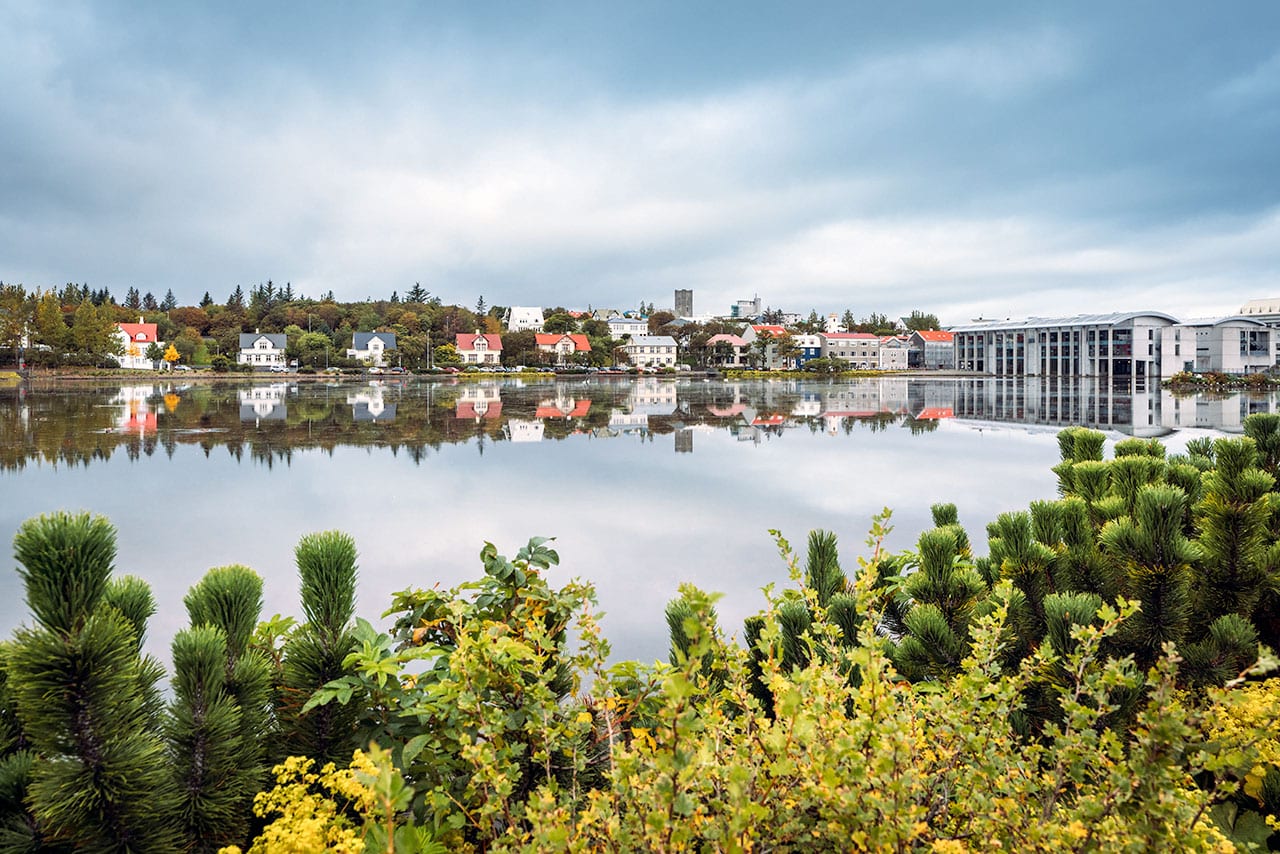 Peaceful Tjörnin Pond
This quiet pond in central Reykjavik is a hangout for people who want to relax and feed the local birds. Reykjavíkurtjörn Pond, or Tjörnin for short, is used by locals for taking a stroll along the shore or walking their dogs. A kind of park in the middle of the city.
The pond is surrounded by Scandinavian style homes, giving it fishing village feel in the heart of the city. There are over 40 species of birds who stop by the pond on a regular basis, including Arctic Tern, ducks, geese, and even Whooper Swans. In the winter Tjörnin freezes over and because a giant ice-skating rink!
10. Street Art Hunting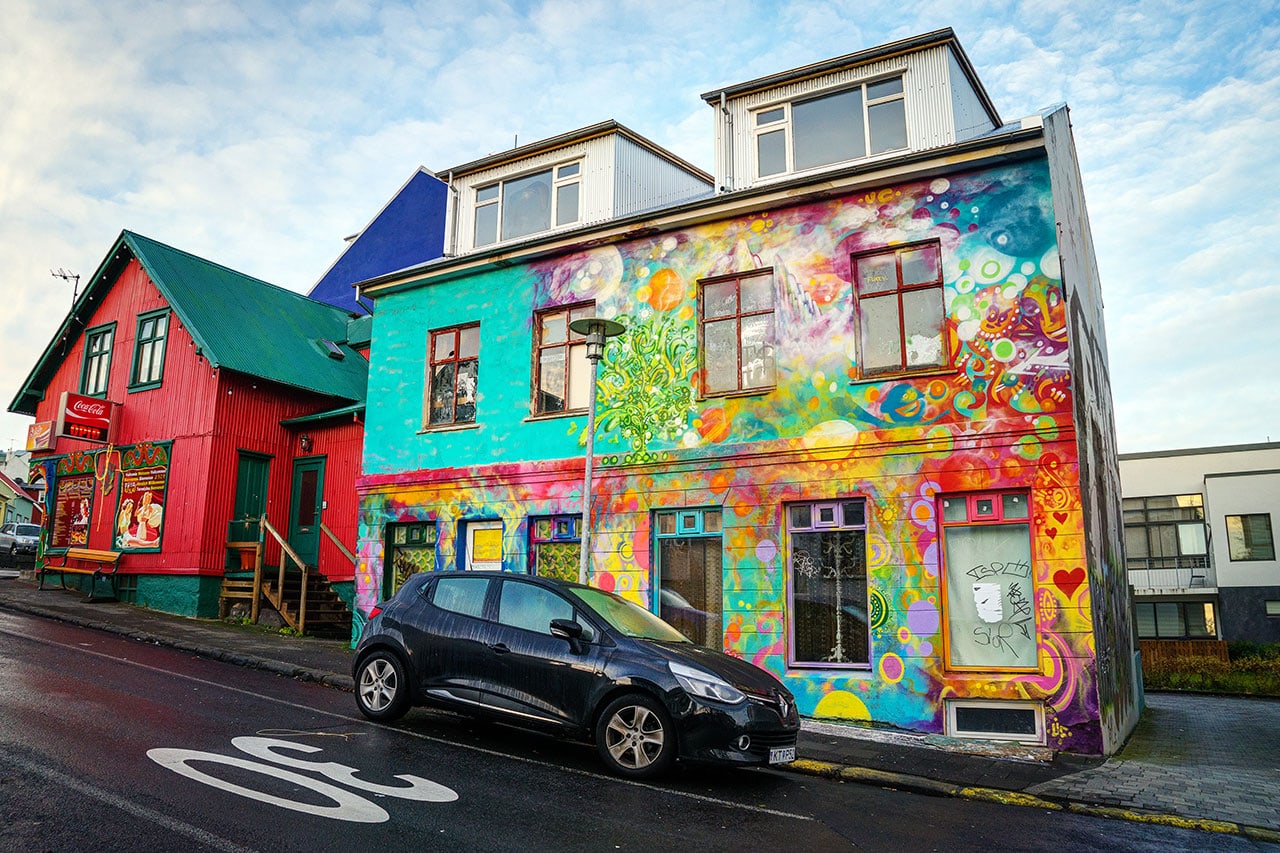 Colorful Street Art Everywhere
Downtown Reykjavík is covered in street art murals and graffiti, most of it part of a project called Wall Poetry where artists & musicians collaborate together.
On of my favorite things to do in Reykjavik was just wander the streets, looking for these cool murals. I've included the location of a few of the best ones on my Reykjavik city map at the top of this article, but you can also find even more here.
11. Try Some Fermented Shark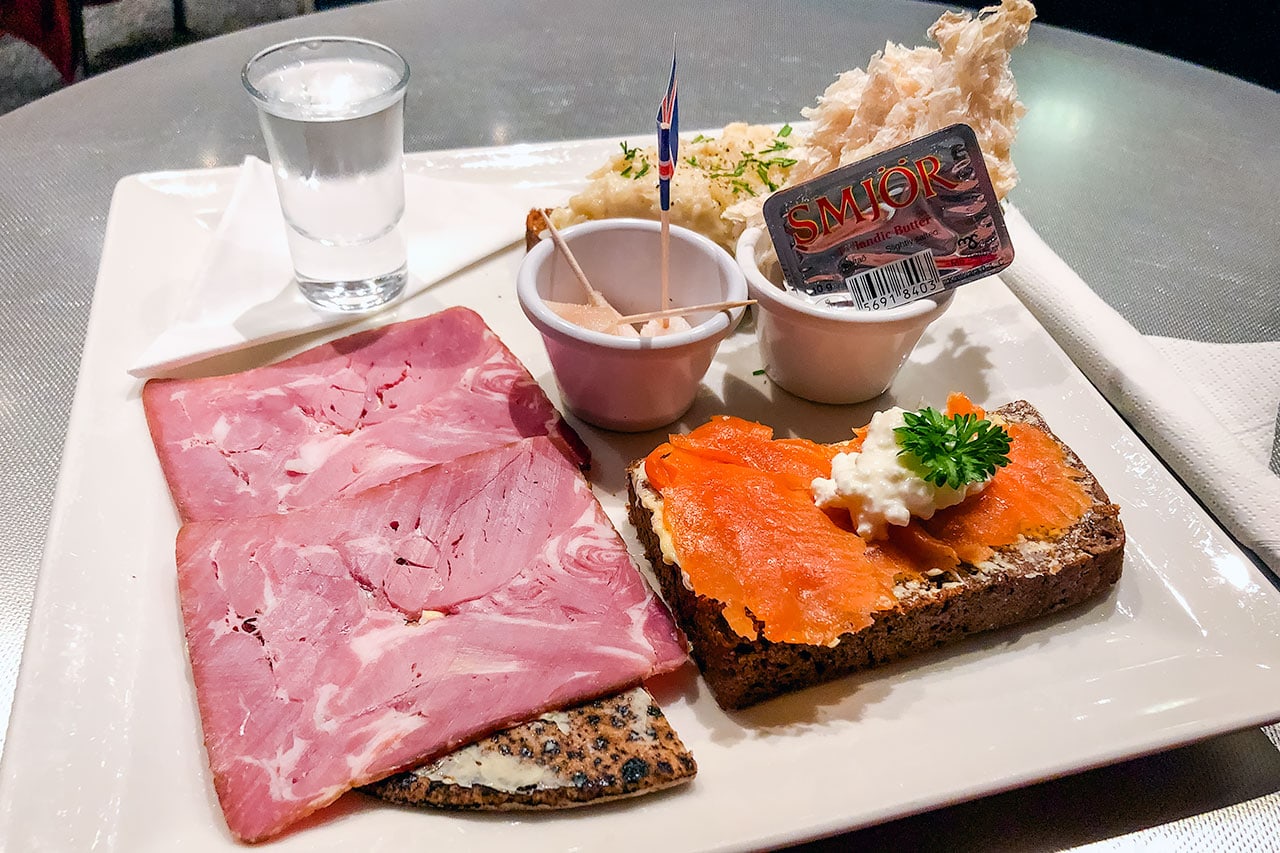 Disgusting Fermented Shark (in middle with toothpicks)
Icelanders have a very strange and stinky traditional food called Hákarl — fermented shark meat. There was a time when food was hard to come by on this island, so people ate whatever was available. Fresh Greenland shark meat is poisonous. However after fermenting underground for 6–12 weeks, it's edible.
I use the term "edible" lightly though, as the meat stinks like ammonia, and is very difficult for foreigners to keep down! A popular activity in Reykjavik is attempting and try some Icelandic fermented shark meat at one of the many local cafes that serve it, like Islenski Barinn or Café Loki.
And you can't eat your piss-tasting shark pieces without washing them down with a strong glass of Brennivín — Iceland's traditional unsweetened alcoholic schnapps often called "The Black Death". Good luck!
12. National Museum Of Iceland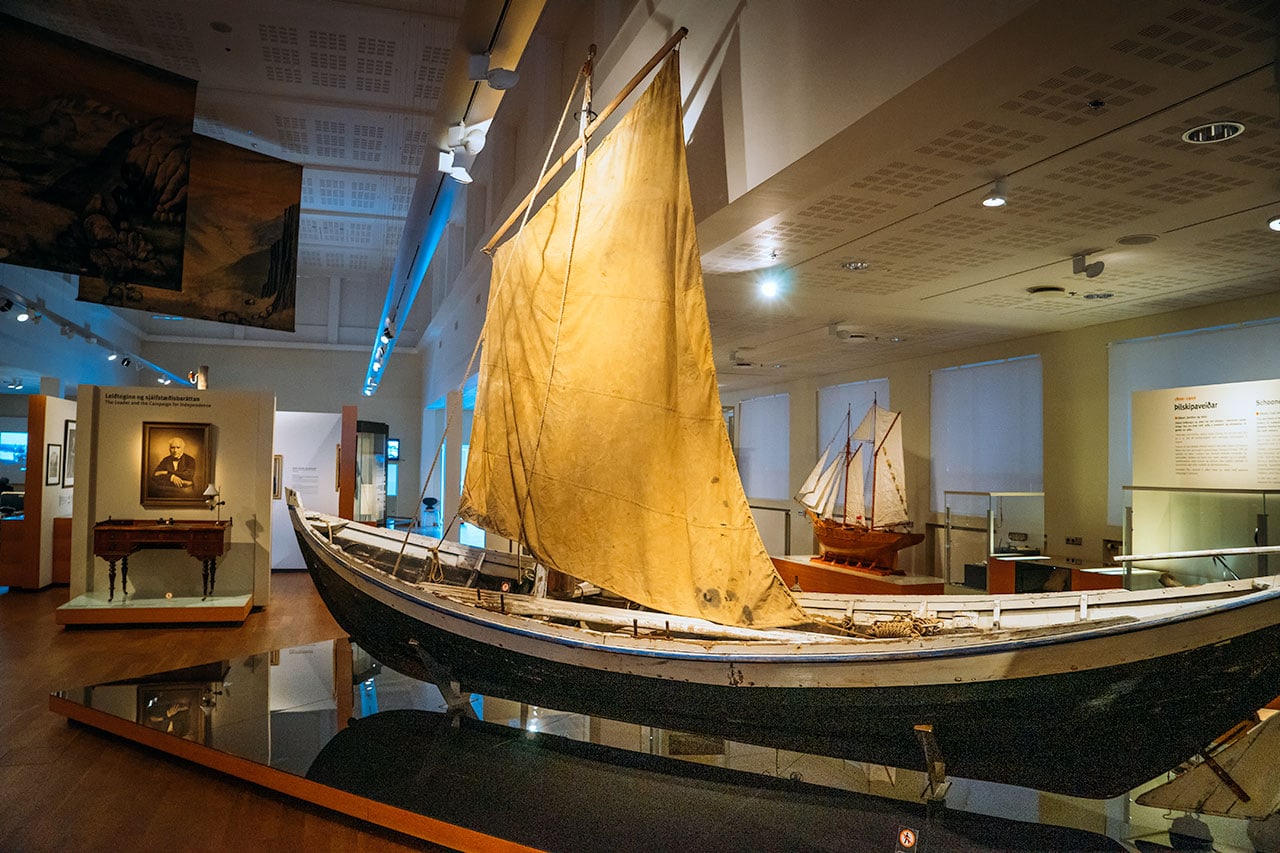 Ancient Icelandic History
Another great museum to check out in Reykjavik is the National Museum of Iceland (or in Icelandic). They have 2 floors filled with over 2,000 artifacts discovered around the country.
See how the first settlers in Iceland lived, from a typical home to what full-size reconstructions of the boats they used. It's usually not very crowded, and has interesting exhibitions from medieval Viking settlements to the present day. They also offer a self-guided audio tour of the museum.
13. Go For A Heated Swim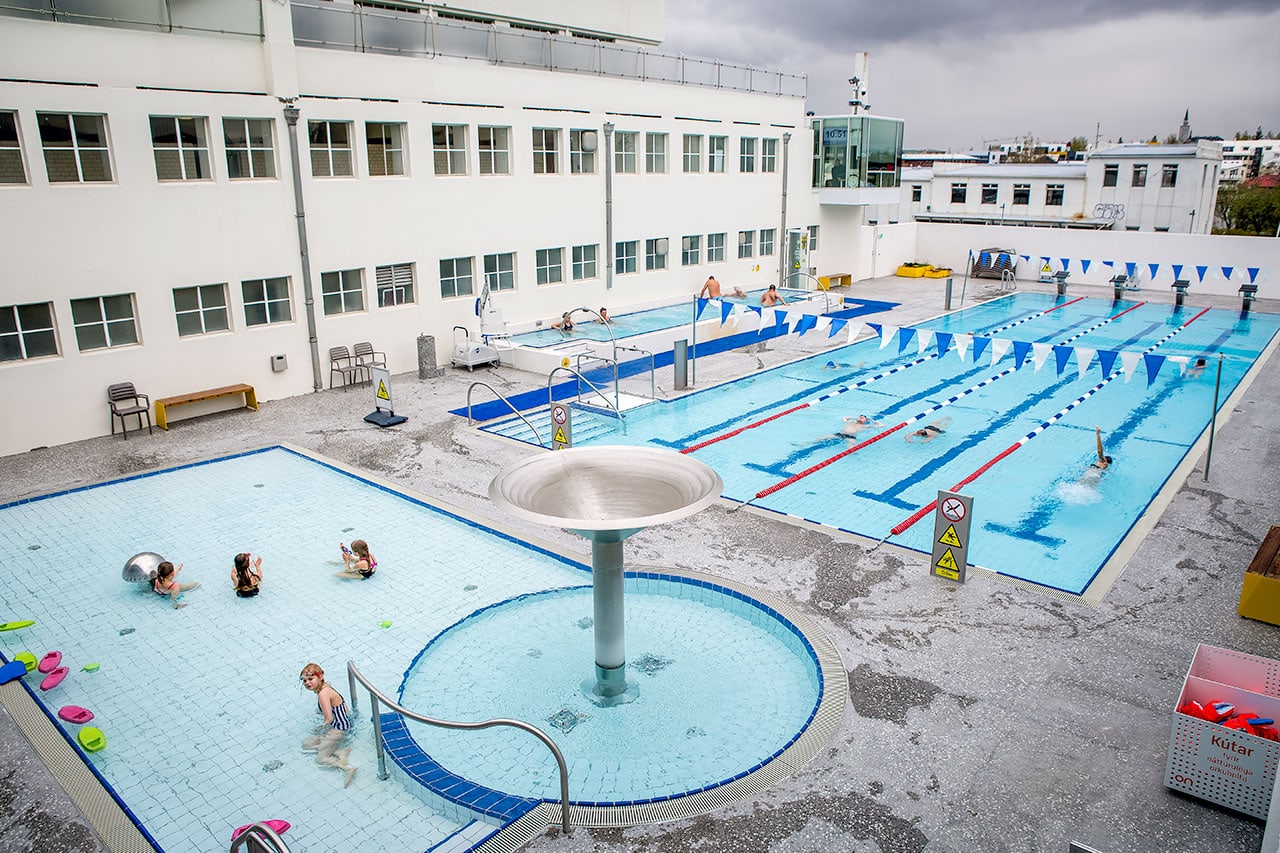 Laugardalslaug Pool in Reykjavik
Swimming is a big deal in Iceland. The country is full of geothermal heated swimming pools, indoors and out. Some are hot springs set in scenic locations, others are just regular swimming pool complexes.
Reykjavik has a bunch of heated swimming pools, but two of the most popular are probably Laugardalslaug and Sundhöll Reykjavíkur. Laugardalslaug is the largest, with all kinds of different pools, slides, steam baths, and other activities.
Another option is to take a dip at Nauthólsvík Geothermal Beach, where hot water is pumped into a couple of large jacuzzis, as well as part of the ocean bay itself. This keeps the water at a comfortable 68 degrees, allowing a "tropical" beach experience in Iceland!
14. Dress Up Like A Viking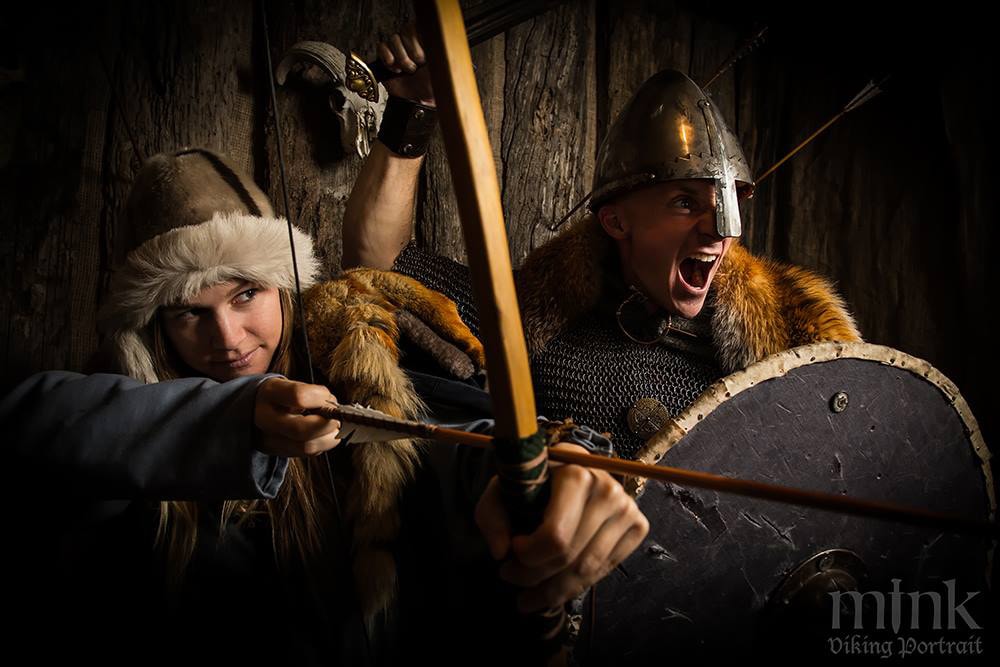 Unleash Your Inner Viking!
I'm sure you're already aware that parts of Iceland were used as a filming location for the wildly successful Game Of Thrones TV series. Well why not get your photo taken dressed up in the same style as the characters while you're there?
On my first trip to Reykjavik with my friend Kiersten, we stopped into MINK Studio for a professional viking photo shoot. It was super fun! Photographer Guðmann Þór Bjargmundsson (who actually worked on the Game Of Thrones series) gave us life-like viking clothing & weapons for amazing shots.
A single photo session takes about 45 minutes for one person, or 1-2 hours for a group. The photo props are super realistic, including their weight! Putting on chain-mail and lifting a broadsword was quite an experience…
15. Perlan Museum & Viewpoint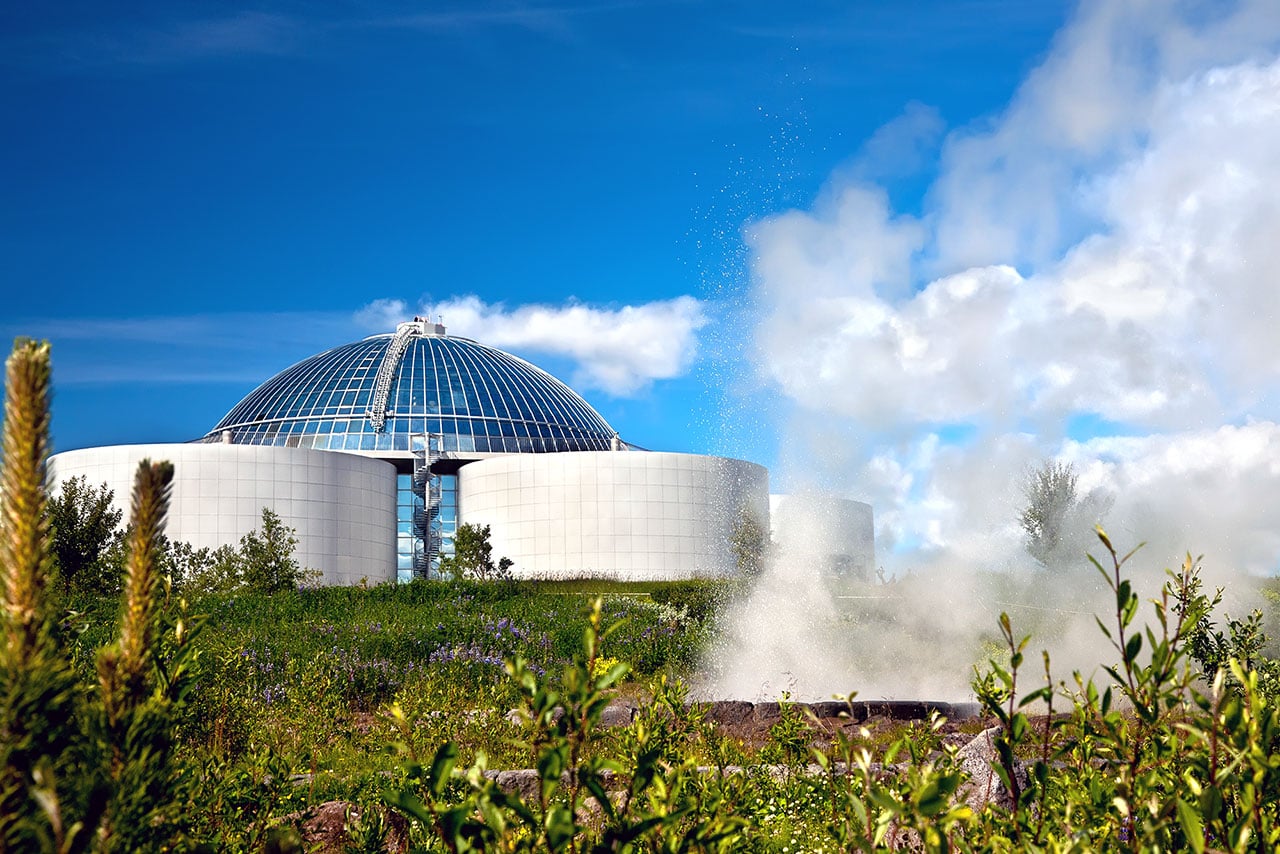 Reykjavik's Perlan Museum
Sitting on top of Öskjuhlíð Hill in Reykjavik you'll find the very cool glass-domed Perlan Museum. Not only does the museum boast one of the best viewpoints of the city, it also has Iceland's largest nature exhibition.
Feel the power of Iceland's earthquakes and volcanoes, or walk through a 100 meter long man-made ice cave (with real ice!) within the building. Another highlight of the museum is Áróra — a special 8K resolution northern lights planetarium visual experience.
16. Take A Ferry To Viðey Island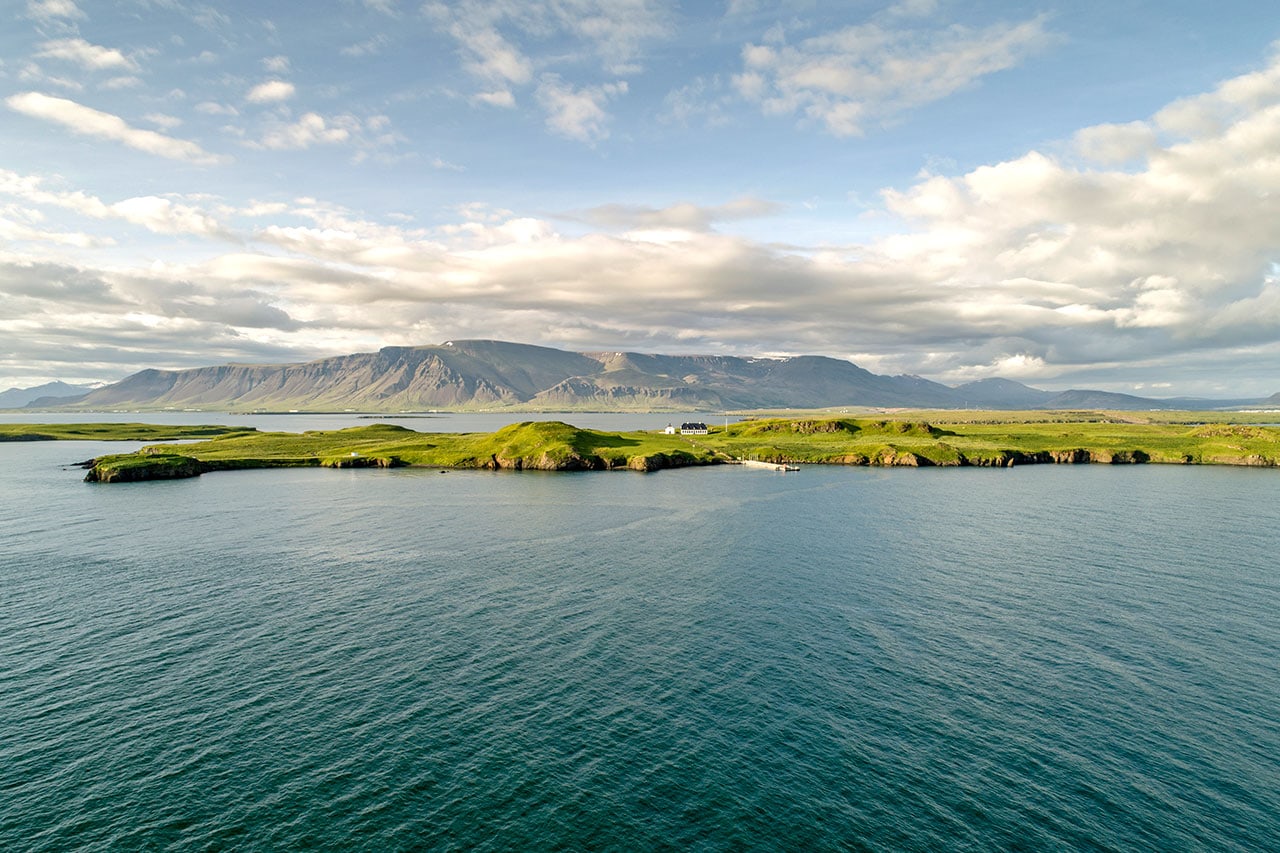 Visit Videy Island
If you're looking to get out of the city, but maybe don't have a lot of time, I recommend jumping on a ferry boat to visit Viðey Island. It's home to over 30 species of birds, including Iceland's famous Puffins. There are also hiking trails and the historic Viðey House, one of the country's oldest homes.
Along with all the birds, the island is also where Yoko Ono built a dramatic light memorial to her late husband, John Lennon. The Imagine Peace Tower is lit up during certain times of year and is quite a sight to see if you're lucky.
You can catch the ferry from Ægisgarður Harbor and the Skarfabakki Pier during the summer, and it's free if you bought the Reykjavik City Card.
17. The Blue Lagoon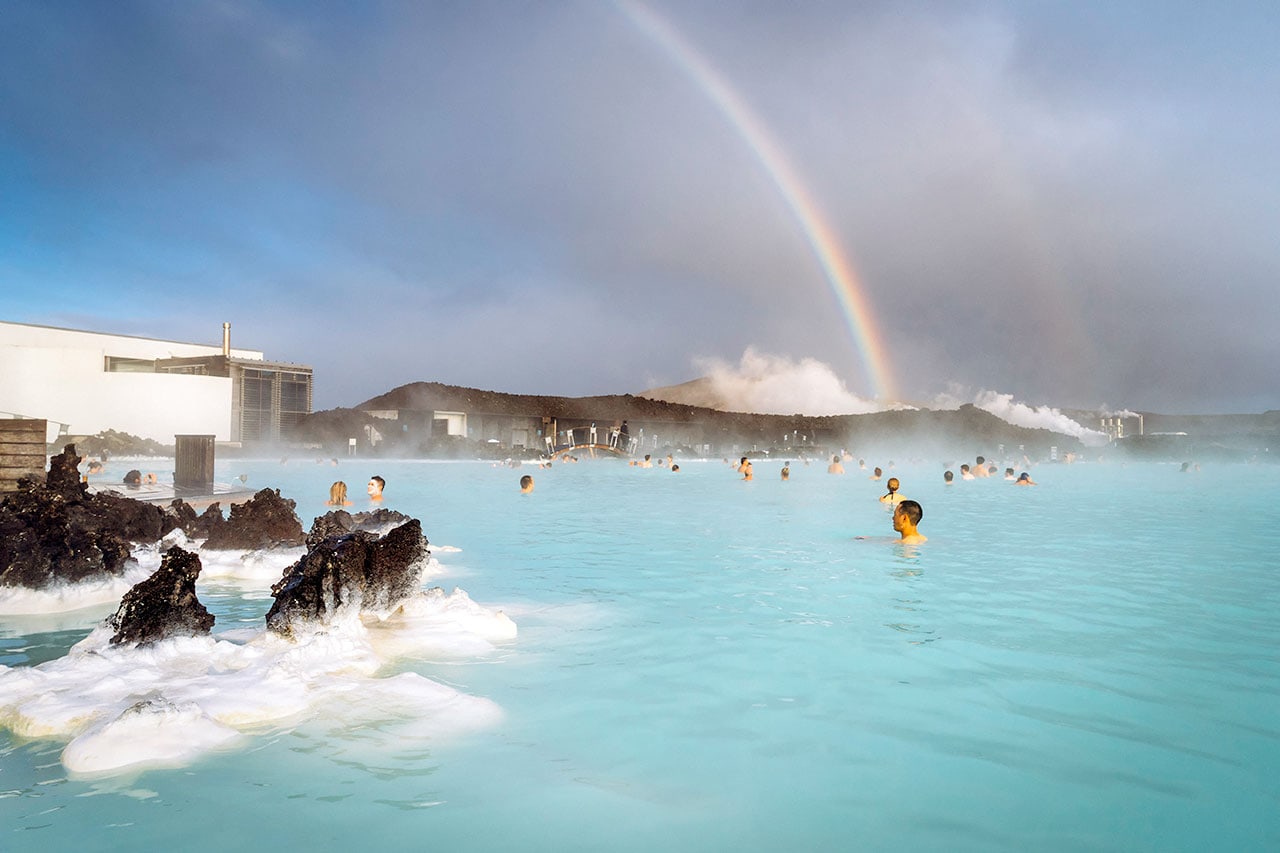 The Blue Lagoon (Outside Reykjavik)
Ok, Iceland's famous Blue Lagoon is not actually located in Reykjavik, even though many first-time visitors think it is. This popular man-made heated lagoon is closer to the airport, about an hour away.
But a good time to visit the Blue Lagoon is when you're leaving Reykjavik to head to the airport before your international flight out of the country — just leave a few hours earlier than normal. So I thought I'd mention it!
18. Kolaportið Flea Market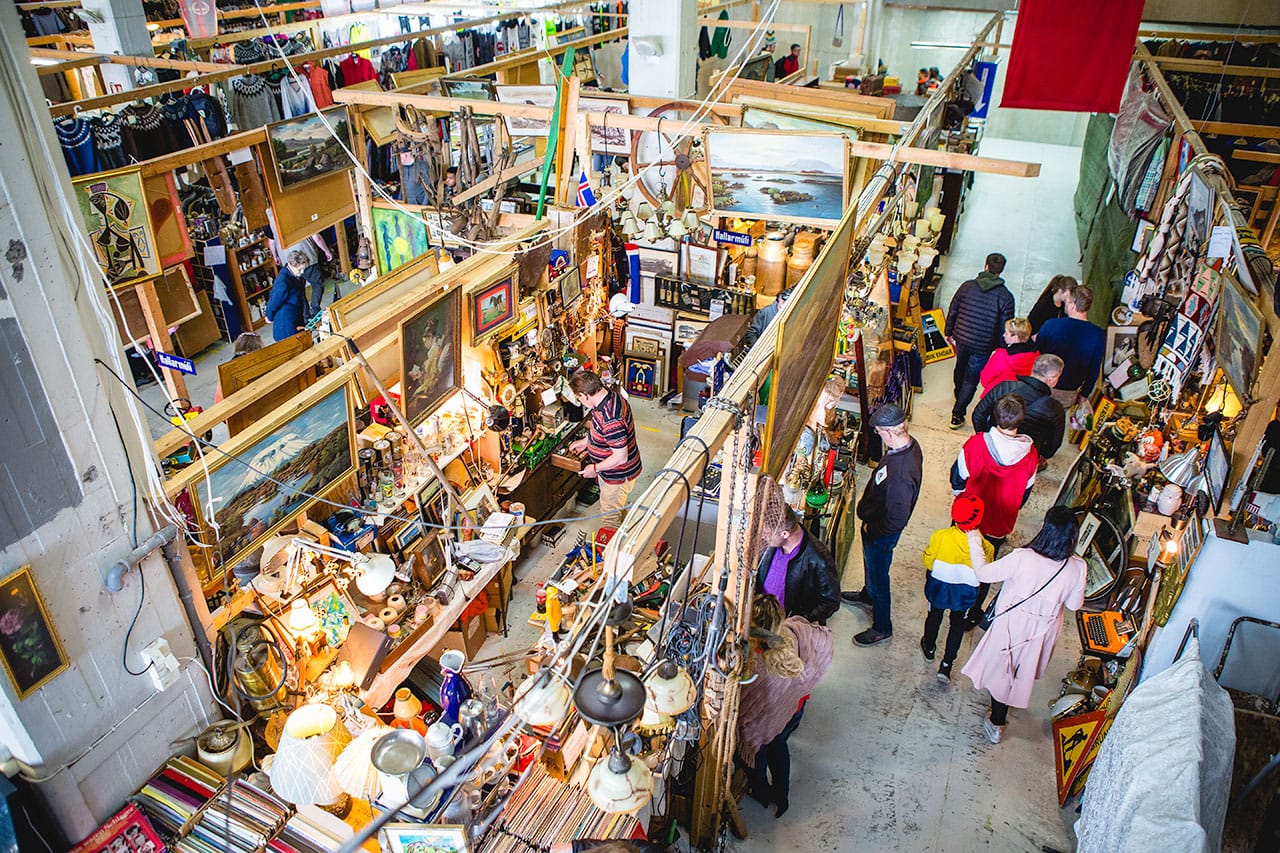 Shop Away at Kolaportid
Kolaportid Flea Market is an old warehouse located in the harbor area of Reykjavik. Packed with all kinds of odds & ends, cheap souvenirs, and used books. If you want to buy a classic Icelandic wool sweater, this is the place to find a deal.
It's fun to wander looking for a bargain, or to just people-watch and hang out with regular Icelanders. You can also get food here, like dried fish, flatbread, fresh licorice, and Iceland's famous fermented shark too. It's usually open on weekends, and all week during the summer months.
19. Go Whale Watching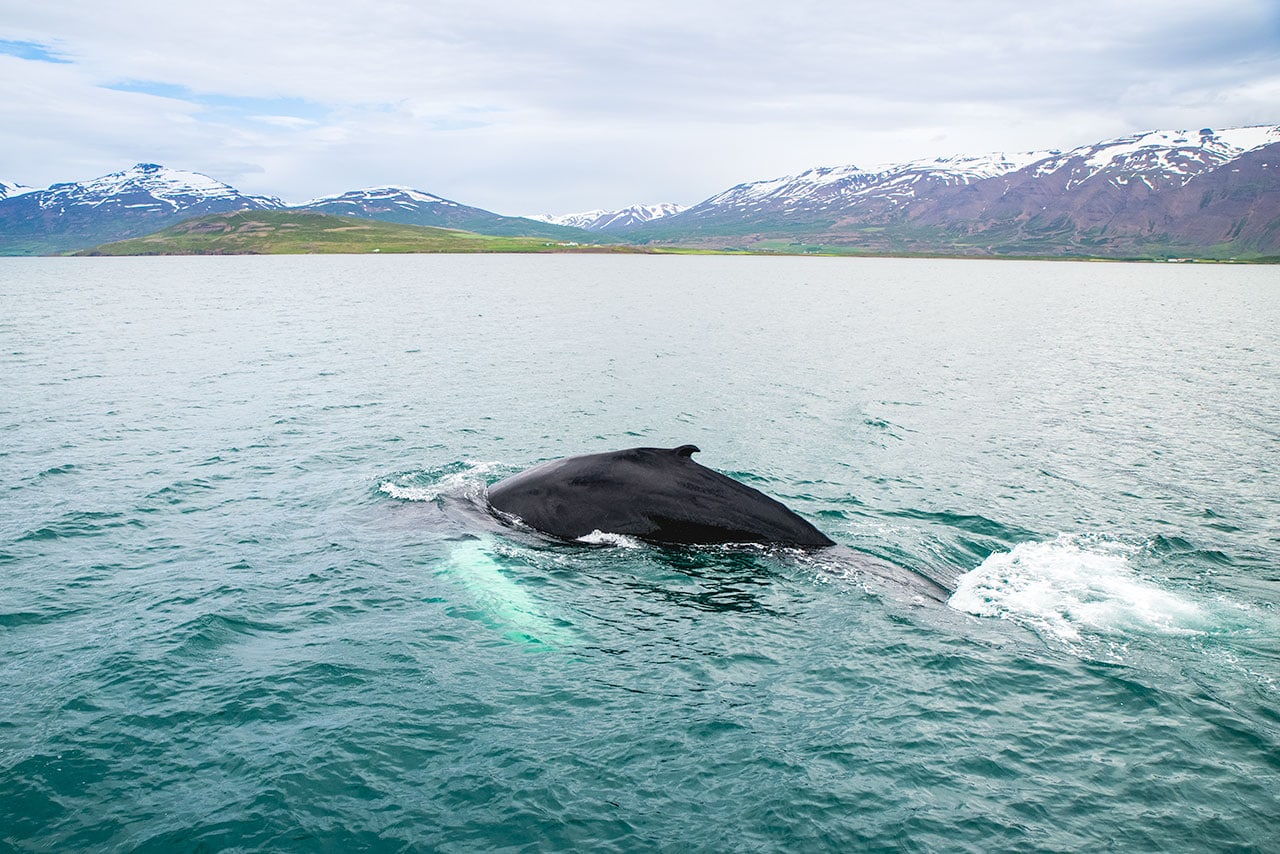 Whale Watching Season in Iceland
Ready to see some wildlife? Faxaflói Bay next to Reykjavík is home to minke whales, humpbacks, porpoises and dolphins too. It's possible to book a whale watching tour that leaves from the city's Old Harbour area. Trips take about 3 hours.
While the whale watching tours run year-round, high season for whales in Iceland is during the summer months between April and October — when the whales swim up from the equator to feed. It's not impossible to see whales in the winter, but much less likely.
20. The Rauðhólar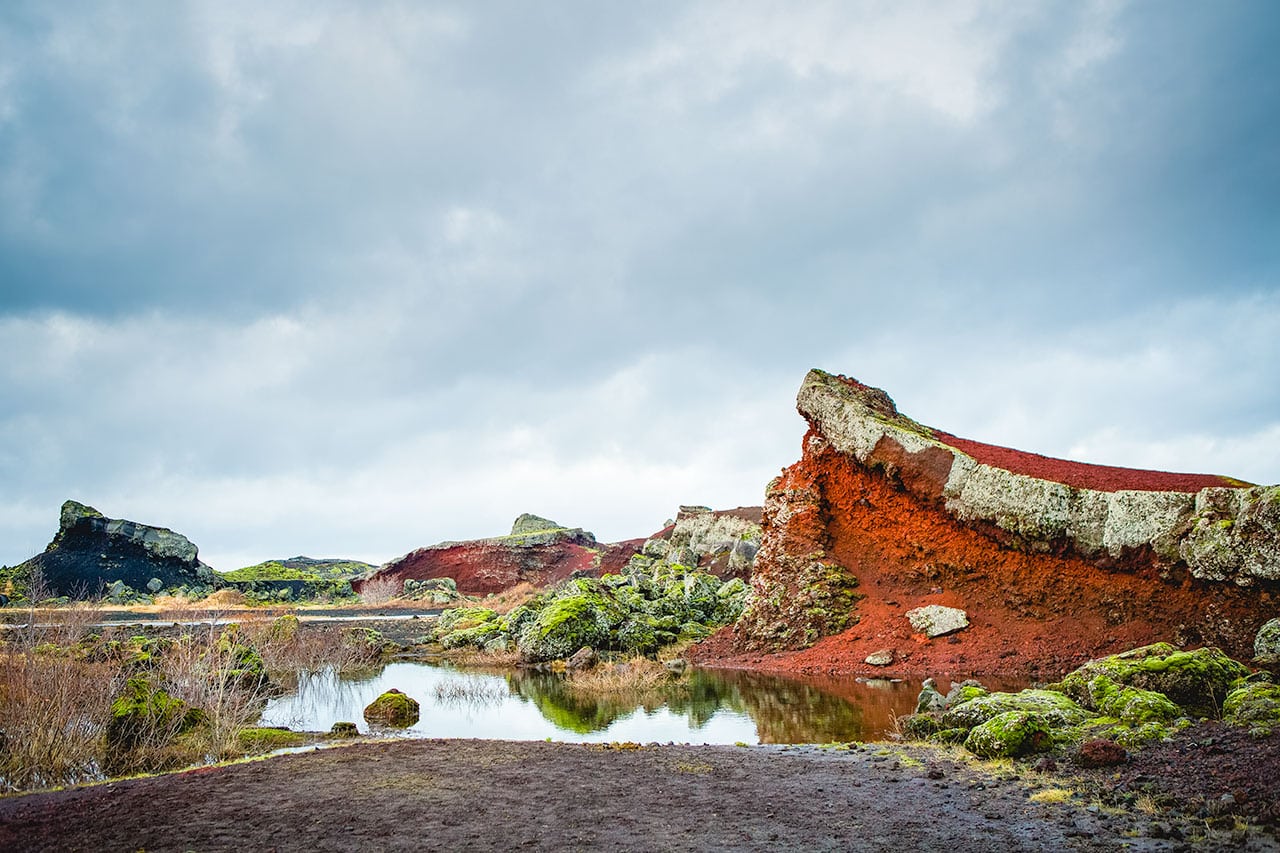 The Rauðhólar Hills
The Rauðhólar (aka The Red Hills) is an area in Heiðmörk Nature Reserve made up of lava fields and red pseudo-craters on the edge of Iceland's capital city. The craters were formed 5000 years ago when lava flowed over ponds, causing the them to boil and explode.
It's a cool place to go for a walk, take photos, and some companies offer horseback riding tours through the unique landscape too. It feels like you're walking around on Mars. Rauðhólar is located only about 15 minutes drive from Reykjavik, just off the Ring Road (Route 1).
21. Free Reykjavik Walking Tour
One of my favorite things to do in any new city is go on a free walking tour to get my bearings — and Reykjavik has a great one. This two hour stroll is guided by the awesome team at City Walk Reykjavik as they discuss the history of the island.
You'll start on Reykjavik's main shopping street, . Learn about the evolution of the city and quirky details about local culture. While the tour is free, keep in mind guides are compensated by tips, so make sure to tip what you think the experience is worth!
22. Hike Mount Esja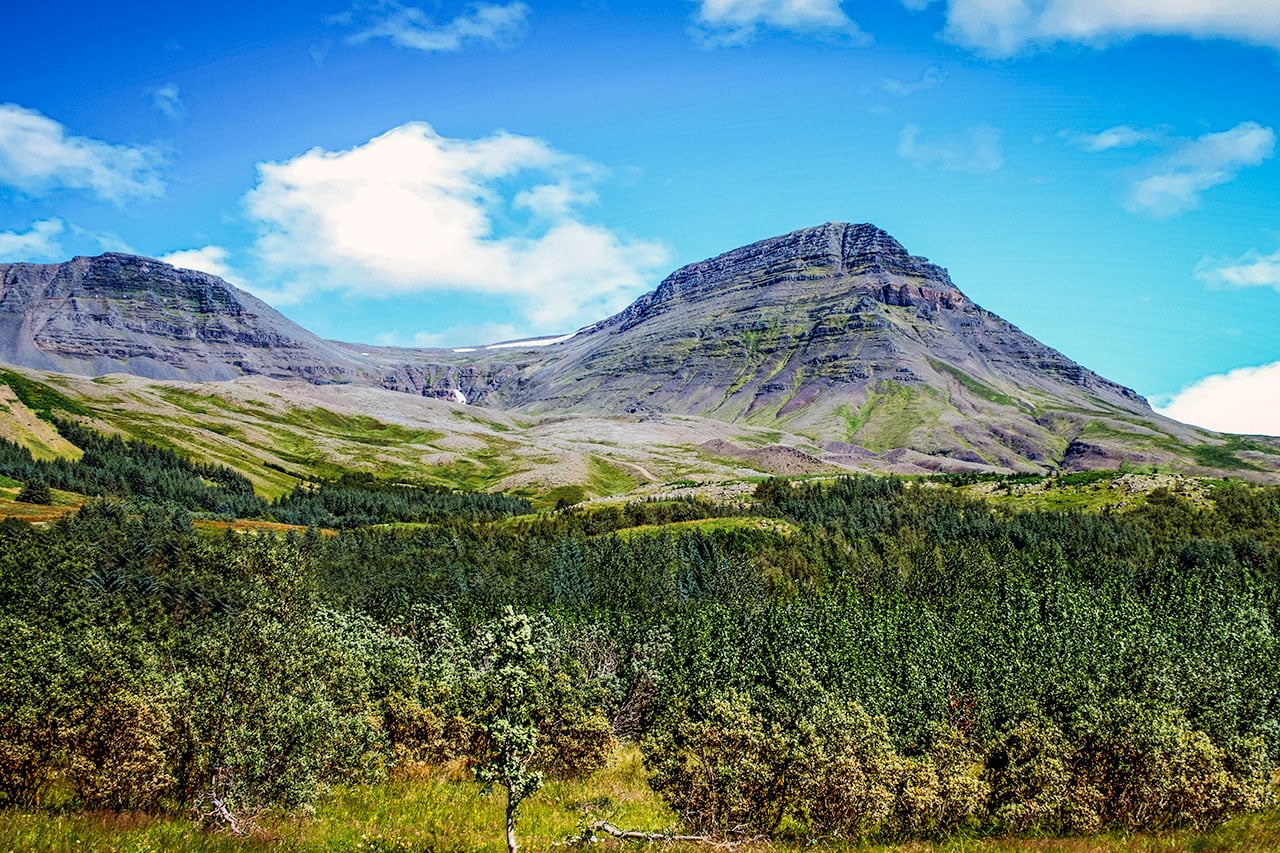 Just an Hour Outside Reykjavik
If you're looking to get some fresh air and exercise, a good free thing to do in Reykjavik is to hike the nearby Mount Esja, located only 10 kilometers (6 miles) from the city. This flat-topped mountain gives great views of Reykjavik. The hike is 5 miles and about 3 hours round-trip.
You can get to the trailhead by bus if you don't have a car. Just make sure to check the weather before you go, because Icelandic weather can get pretty brutal, especially the wind. The summit section involves some scrambling and cables, but you don't have to go to the very top.
23. Check Out Some Bookshops
Icelanders love to read, and Reykjavik has a large assortment of cool bookshops to explore. Probably my favorite is the historic Eymundsson book shop, the city's oldest and largest one. There's a nice outdoor patio to enjoy reading on a sunny day.
Eymundsson has a large selection of books in Icelandic as well as many foreign languages too. Don't forget to grab a cup of coffee at one of Iceland's most popular coffee shops too — . As a digital nomad, it's a wonderful place to get a little work done too!
24. Visit The Old Harbour
After the construction of Harpa Concert Hall along the water, Reykjavik's Old Harbour area has quickly become a hip spot to hang out. Stroll along the boardwalks enjoying the view of Mount Esja in the distance, grab lunch at Iceland's oldest restaurant, or stop into the .
This is also where the local marina is, a docking spot for fishing boats, yachts, and whale-watching tours. Colorful old sheds have been turned into little shops, where you can browse for souvenirs or grab a cup of freshly roasted coffee.
25. Þúfa Hill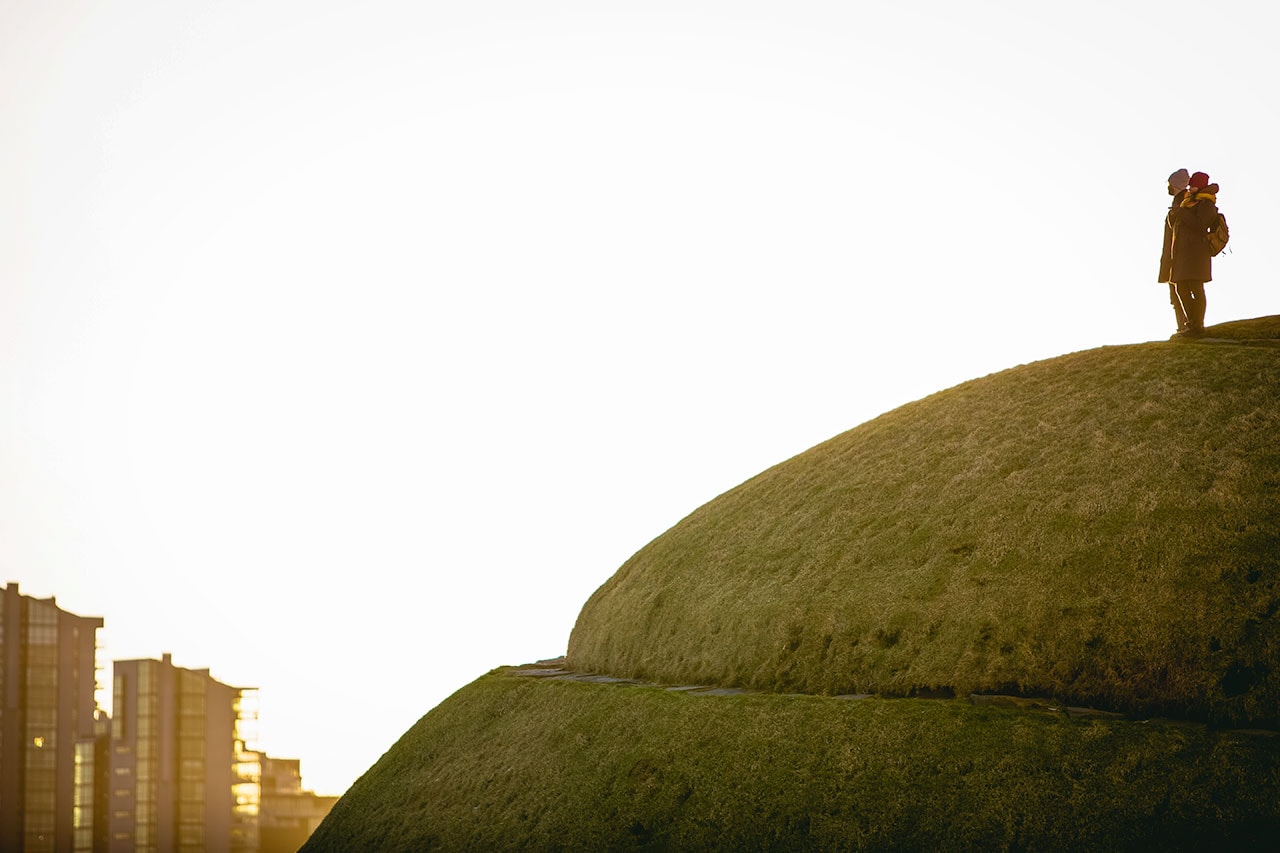 Þúfa Hill Sculpture
Because I've only visited the city a few times, I asked a local for some additional advice on what to do in Reykjavik. Ernir Eyjólfsson is a photographer for Iceland's largest daily newspaper, Fréttablaðið. He also has a side-gig shooting photos of tourists with Flytographer.
One of Ernir's favorite spots in the city is this interesting man-made outdoor art piece called Þúfa Hill (TH-OO-FHA) located in the Grandi area of Reykjavik. Built by artist Ólöf Nordal, you can walk up for nice views of Harpa Concert Hall and the harbor. There's even a small traditional shack for air-drying fish at the top.
Transportation In Iceland
Rental Car
Discover Cars searches all the big car rental companies and finds the best price. This is probably the easiest way to rent a car and drive in Iceland.
Bus
Iceland does have a public bus system, and the yellow city buses in Reykjavik are called Strætó. A single ticket costs about 350 ISK ($2 USD), but they also offer discount cards if you happen to be using it a lot. For example, a 72 hour card for 1700 ISK ($11 USD).
Taxi
There are taxis in Iceland, but you don't hail them from the road like you might in other countires. You need to book a taxi on the phone, and there are no ride service apps like Uber or Lyft (yet). However there are some taxi stands in key downtown locations. The main taxi services are (+354-588-5522) and (+354-561-0000).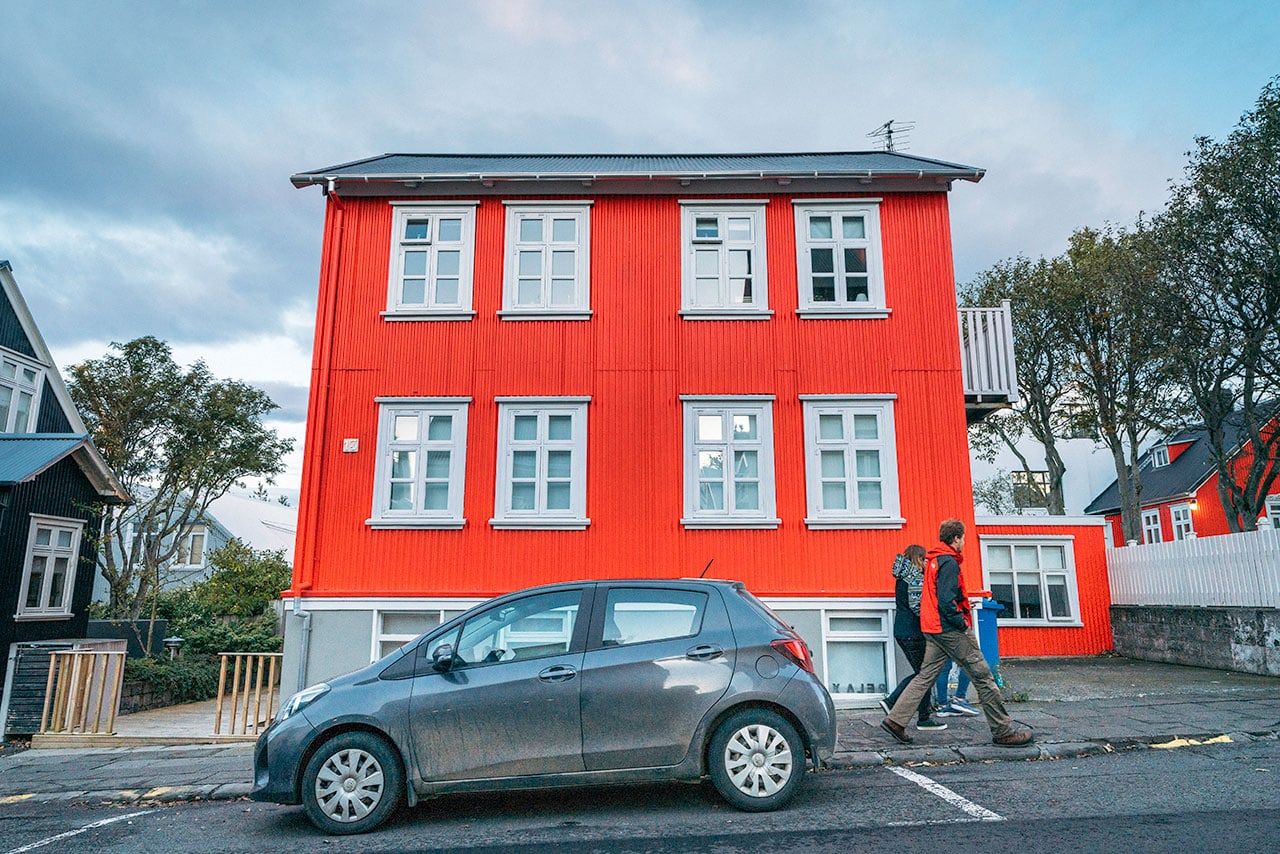 Colorful Neighborhoods in Reykjavik
Where To Stay In Reykjavik
Accommodation in Reykjavik is . There's just no way around it. Reykjavik is a small city, so hotels within the center charge a premium. Here are suggestions for good places to stay during your trip to Reykjavik, Iceland…
---
---
Reykjavik Travel Tips & Advice
Pick up a Reykjavik City Card (about $27 USD) if you plan to be in the city for a few days, as it gives you free or discounted access to all kinds of local museaums and attractions.
Iceland is an expensive destination. After all, it's a remote island. Food is especially pricey. One way to save money is to keep eating out to a minimum, and try to cook your own meals if you have a kitchen in your accommodation.
Many tourists who visit Iceland don't get very far outside the city. While Reykjavik has a lot to offer, the best of the country is found in the countryside. For example, to maximize your chances of seeing the elusive northern lights, you need to get away from the city.
---