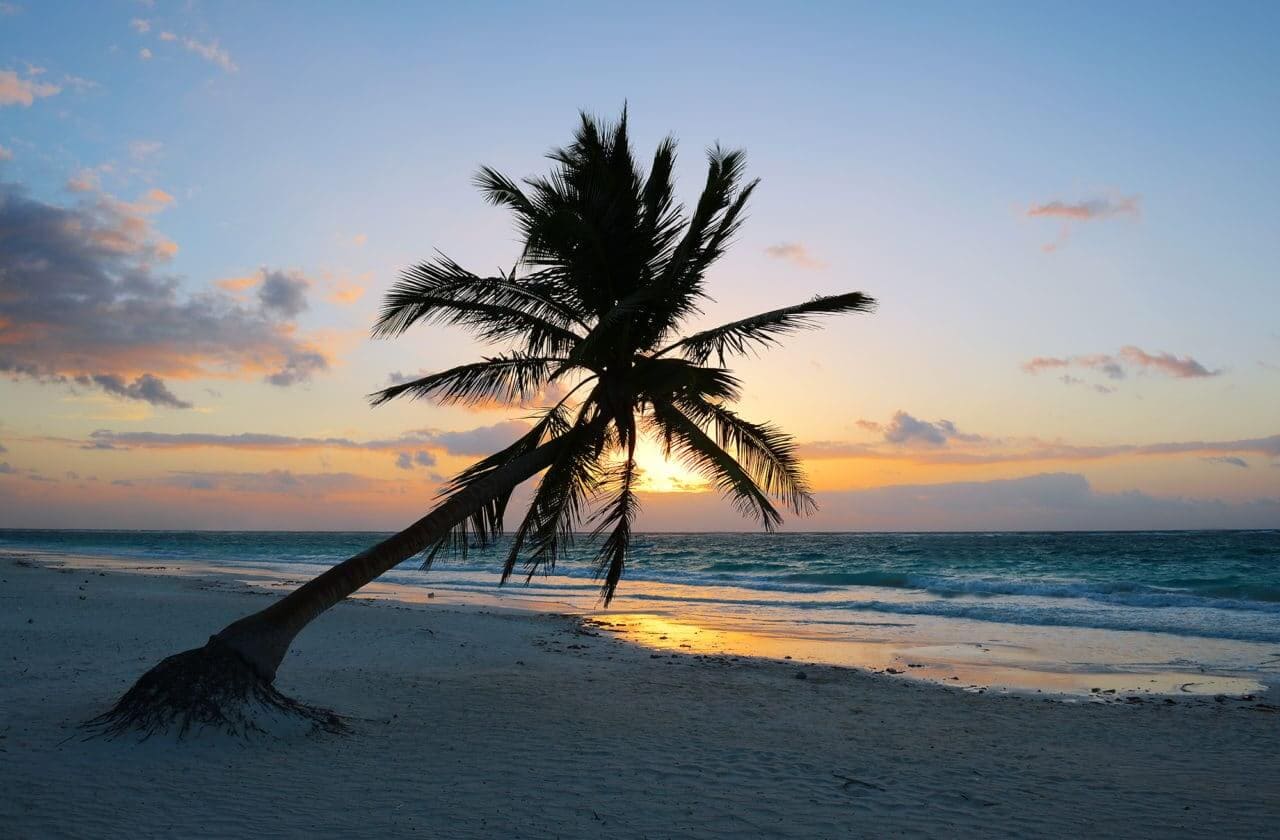 Things to do in Playa Del Carmen
Playa Del Carmen, Mexico
Planning to visit Mexico soon? These are my favorite things to do in Playa del Carmen after living here for over a year. Pretty beaches, cenote swimming, Mayan ruins and more.
Playa del Carmen is a fun beach town on Mexico's Yucatan Peninsula, part of the classic route down the coast.
Smaller and less touristy than Cancun, it's becoming a popular travel destination for people looking for travel experiences that are more substantial than your typical all-inclusive resort.
I spent over a year working and living in Playa del Carmen as a digital nomad.
Lately, friends have been asking for vacation advice about the area — so I wanted to share some my favorite things to do in Playa del Carmen!
Playa Del Carmen Highlights Map
Best Things To Do In Playa Del Carmen 2019
1: Cenote Diving/Snorkeling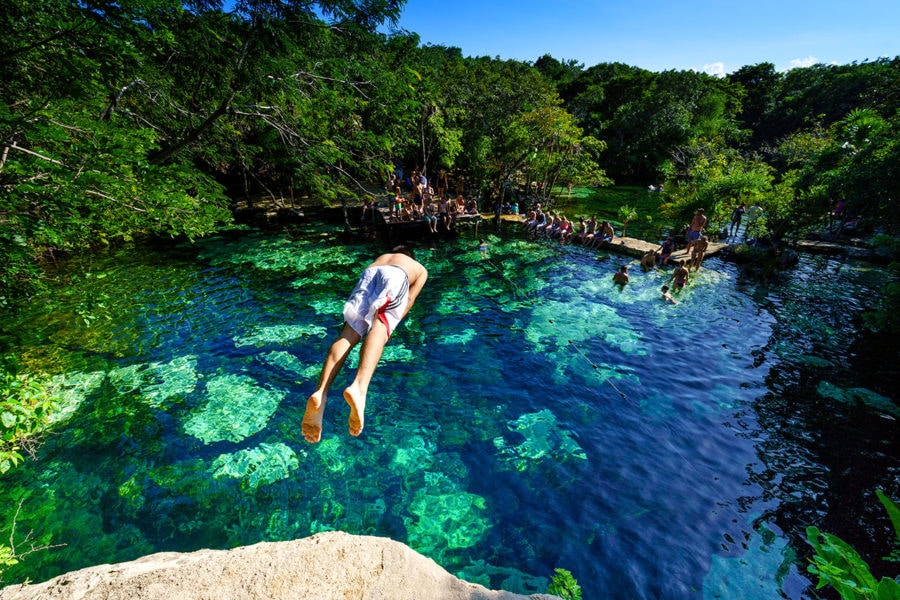 Swimming at Cenote Azul
What's a cenote you ask? It's an underground cave filled with fresh water. The Yucatan has tons of them — sinkholes that open up into underground rivers with the clearest water you've ever seen.
If you have your PADI license, you can go scuba diving in these caves with a guide. Because there's daylight near the entrance, a more technical cave diving license isn't required.
Not a scuba diver? No problem. You can also go snorkeling at most cenotes. Some of my favorite cenotes near Playa del Carmen are:
Cenote Dos Ojos
Cenote Azul
Garden of Eden
Gran Cenote
2: Visit Ancient Mayan Ruins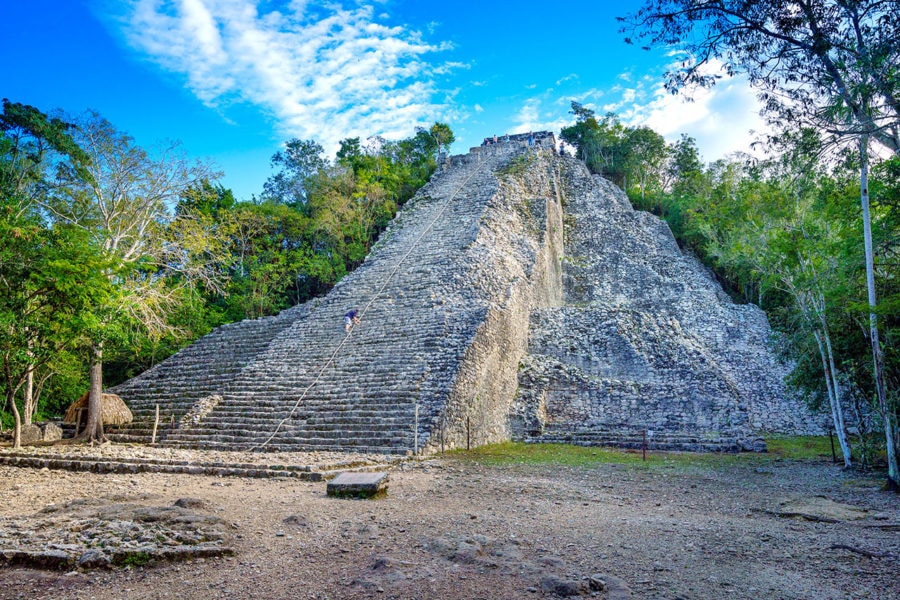 Coba Mayan Ruins
The ancient Mayan ruins of Tulum are located South of Playa del Carmen in the town of Tulum. Tulum was once a small but important port city that sits on the edge of a cliff, with a beach below where you can swim too.
Because Tulum is so popular, the ruins can be crowded unless you arrive early in the morning. Coba is another Mayan site near Playa del Carmen which sees less visitors. You can even still climb the pyramid there too!
Of course, everyone who visits the Yucatan Peninsula wants to check out Mexico's most famous ruins, Chichen Itza. This site is a bit further away, about 2 hours by car.
3: Playa Del Carmen Nightlife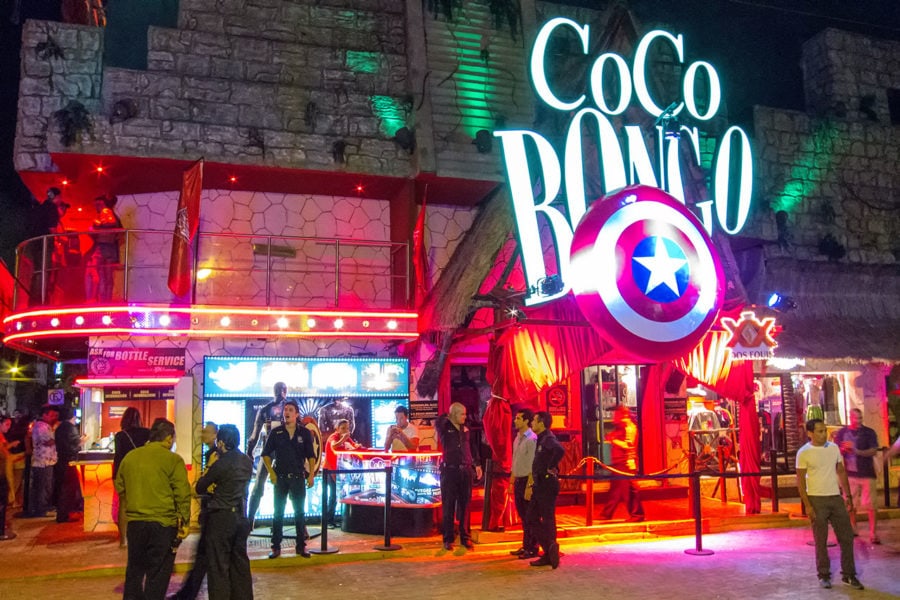 Coco Bongo Nightclub
Playa del Carmen's nightlife is fun, but not quite as crazy as Cancun. Coco Bongo is one nightclub that I think is worth a visit.
You'll see flying acrobats, blockbuster movie characters, and rock-star impersonators take the stage in turns throughout the night.
Every ticket includes full open bar all night, so take plenty of photos because you probably won't remember what happened the next day!
A few other good nightclubs that I recommend are Mandala and La Vaquita (just look for the cow dancing in the street!)
4: Swimming With Sea Turtles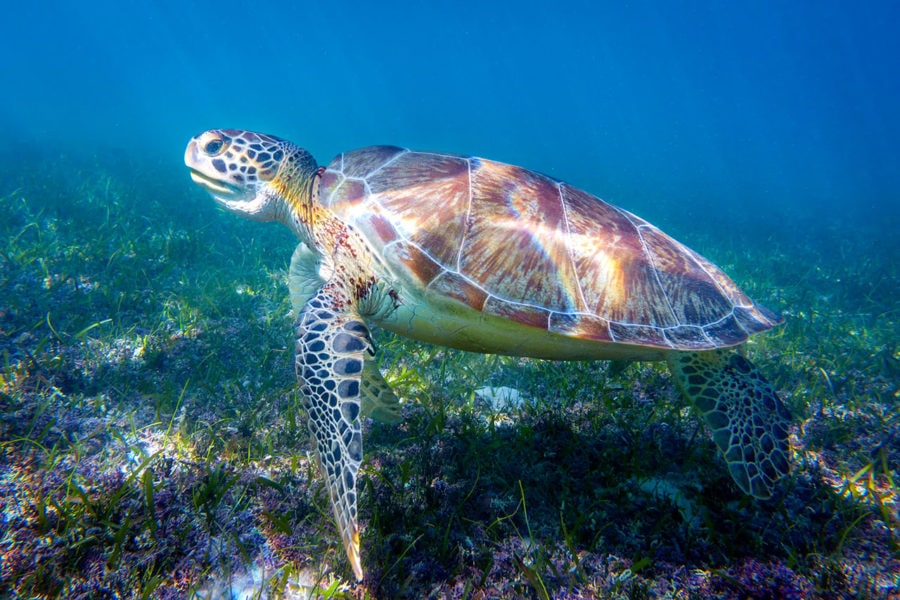 Snorkeling with Sea Turtles at Akumal
Who doesn't want to swim with sea turtles? I've always wanted to, that's for sure. I got my chance at Akumal beach, 30 minutes South of Playa del Carmen.
The shallow blue-green water here is home to Green, Hawksbill and Loggerhead sea turtles that you can swim with.
To visit Akumal, the cheapest way is to take a colectivo taxi headed for Tulum from the stand located on Calle 2 Norte between Avenida 15 and 20 in Playa del Carmen. Tell them you want to get off at Akumal.
From the highway, it's a 5-minute walk to Akumal Bay. Bring your own snorkeling gear, life jacket or rent some there. Swimming with the turtles is free!
5: Ocean Parasailing Over Mexico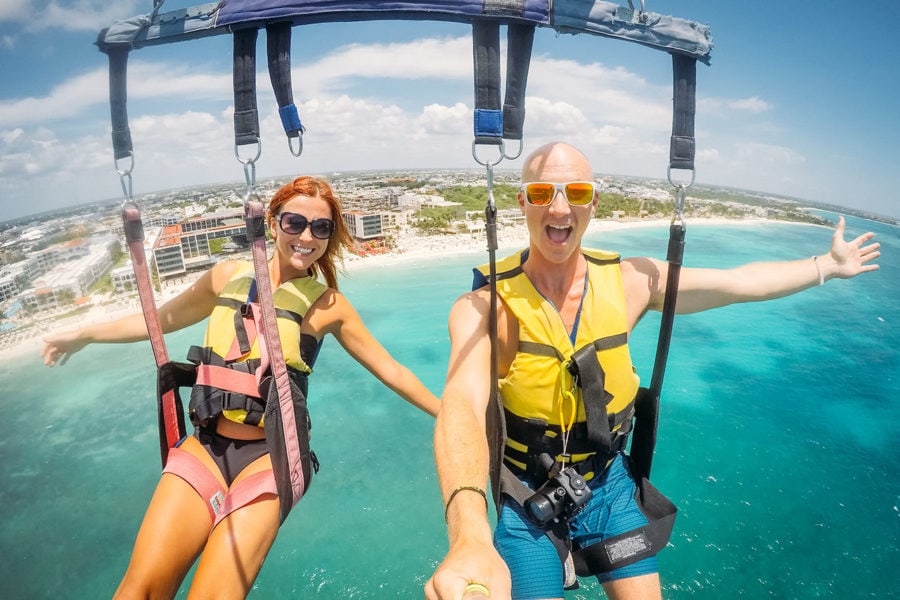 Parasailing Above Playa
Ocean parasailing is a hugely popular activity in Playa Del Carmen, with many boats ready to pull their passengers through the sky over the ocean.
Take off can be quite a bumpy ride, once you're up in the air paragliding is one of the most serene and peaceful experiences on the busy beaches of Mexico.
As a bonus, parasailing gives you an excellent view of Playa's coastline from above. Great for photos if you have a waterproof camera! Sometimes they dunk your legs into the ocean for fun…
6: Self-Guided Mexican Taco Tour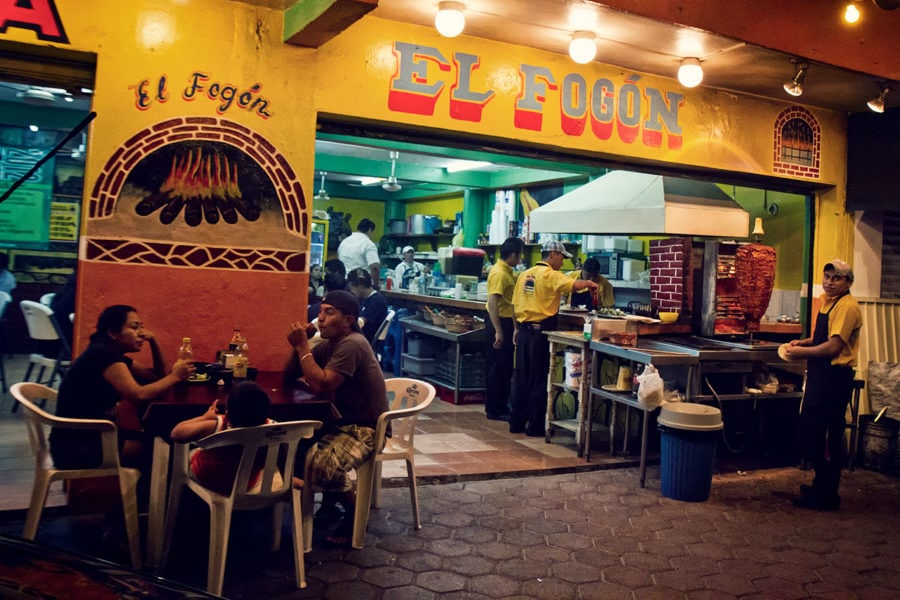 El Fogon Tacos are Tasty!
Hey, it's Mexico. Mexican food in the Yucatan is cheap & delicious. There are a few special restaurants in Playa del Carmen I want to share with you.
If you're looking for some authentic tacos, check out El Fogon. Super basic with plastic chairs and Mexican Idol on the TV, but order 3 or 4 with a cold beer, and you'll be in heaven.
Another great option for tacos is Don Sirloin. Their taco sauces are the best! My favorite is the jalapeno and pineapple one…
Don Sirloin has two locations, one on 10th Avenue between 12th Street and 14th Street and another on Constituyentes Avenue at the corner of 25th Avenue (next to Mega).
7: Salsa Dancing At Zenzi
Zenzi is a beach bar and restaurant, located right off the sand in Playa Del Carmen. While of course the food and drink here are great, the real attraction is salsa dancing!
Every a live salsa band plays as guests and visitors join in or simply watch as local dancers show off their best moves on the dance floor.
It's a great way to start the night off in Playa before heading on to other bars and nightclubs.
8: Boat Trip To Isla Cozumel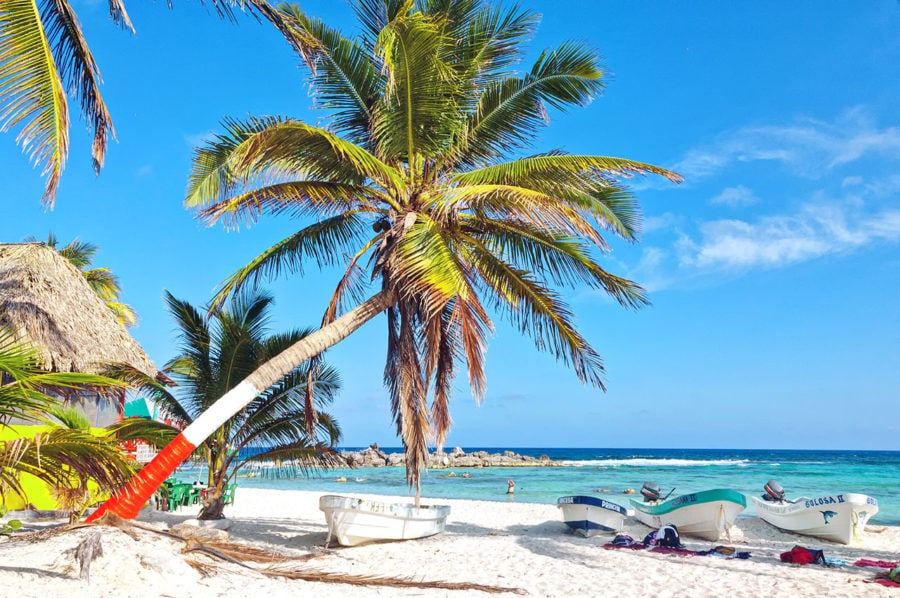 Beautiful Beaches of Cozumel
Cozumel is a small island off the coast of Playa del Carmen known for it's pristine beaches. Normally a stop for cruise ships, you can take a 45-minute ferry over on your own from Playa del Carmen for about $13 USD.
An easy & cheap day trip is renting a scooter and driving it around the island where all the best beaches are. Or, if you're feeling extra adventurous, you can try hitchhiking around the island instead.
As long as there isn't a cruise ship in port, you'll have those white sand beaches to yourself. Plenty of stops on the way for lunch & photos. Jump on the last ferry back to Playa del Carmen around sunset.
9: Parque Fundadores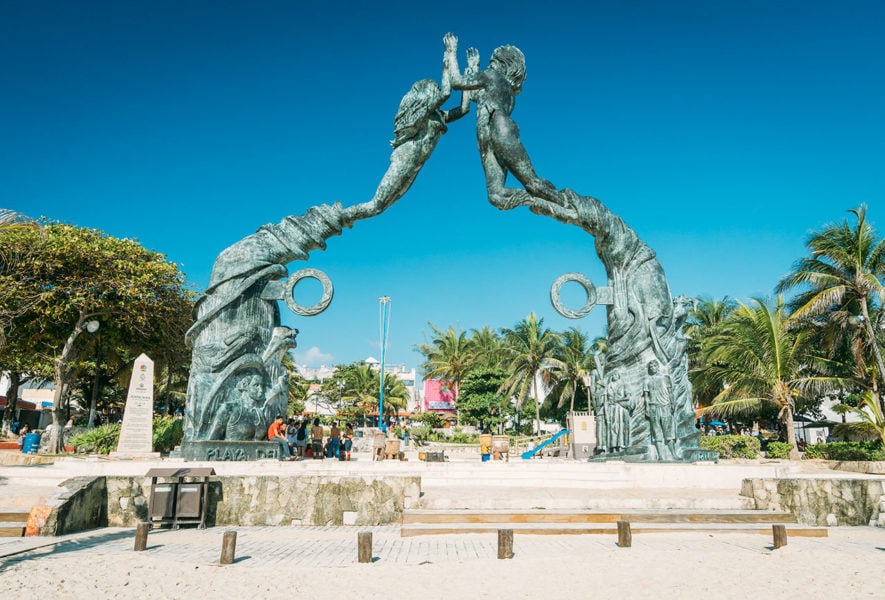 Playa del Carmen's Parque Fundadores
Parque Fundadores, or the "", is a public park in Playa del Carmen just north of the Cozumel ferry terminal along the beach with entertainment for the whole family.
While a playground entertains children, adults can take a stroll down the beach and check out the Portal Maya statue, sitting over 50 feet tall.
You might also catch a Papantla Flyer's (Voladores de Papantla) performance in the park. A spectacular acrobatic show of men swinging from a 90ft pole by their feet! If you watch the whole thing, please remember to tip them.
10: Ride In A Colectivo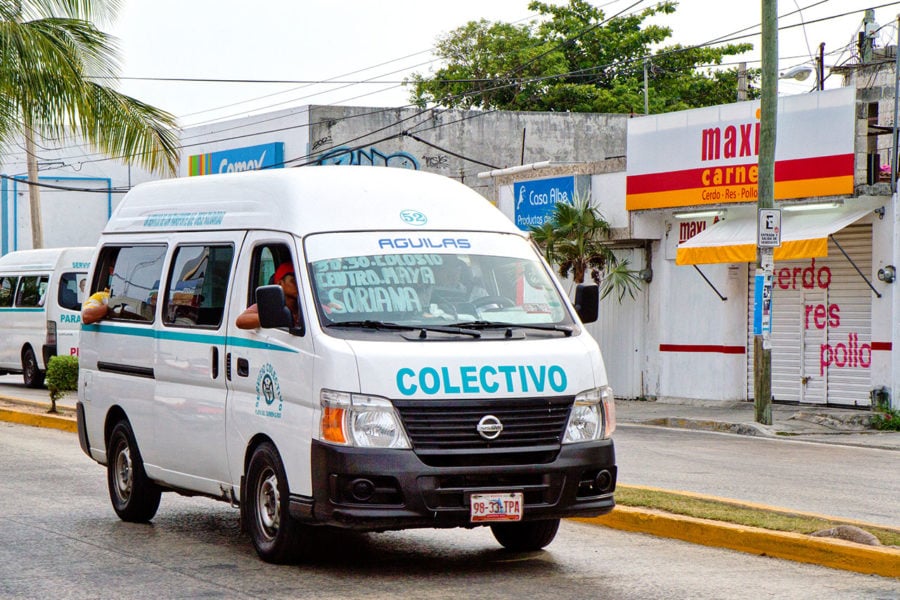 Colectivo Public Taxi Vans
You can't visit Playa del Carmen without using a Colectivo (group taxi). You'll see these vans cruise down the street picking up locals. It's an interesting (and confusing) experience if you've never tried it before.
They stuff as many people as possible into these things, and rides can cost less than $1.
Destinations are written on the windshield, but if you don't know the names, it won't make much sense. A good place to start is by grabbing one at the Colectivo station on from Playa del Carmen to Akumal beach (mentioned earlier).
Remember to tell the driver where you're going! It's cheap, fun, and will push you out of your comfort zone a bit.
11: Scuba Diving In Playa Del Carmen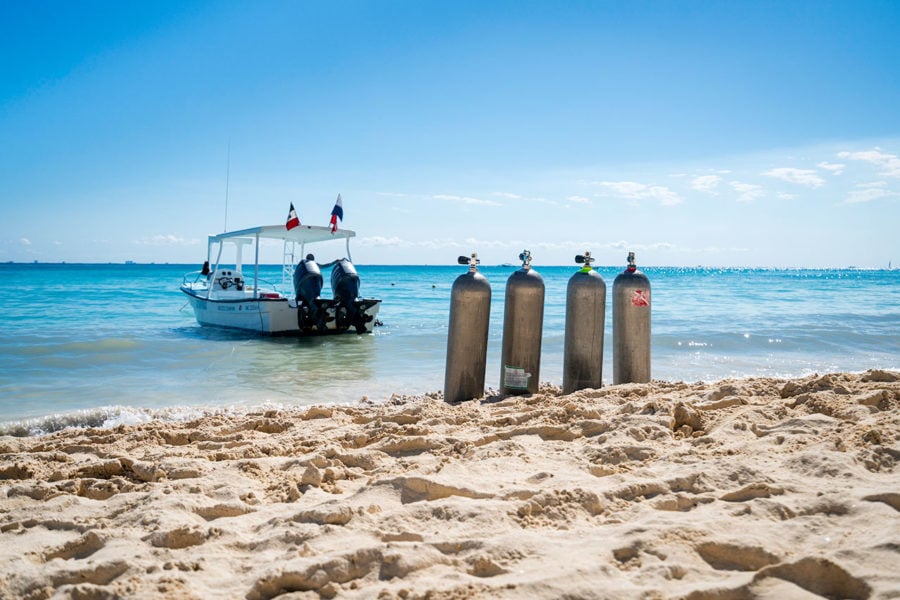 Scuba Diving in Playa del Carmen
Playa del Carmen is a great place to base yourself if you're a scuba diver. Along with all the cool cenote cave diving areas I mentioned earlier, there are some decent reefs nearby too.
A few of the most popular are and near Playa del Carmen itself, down near Akumal, and off the coast of Cozumel.
There are tons of dive shops and schools in and around town, so if you've always wanted to get your PADI open water diving certification, Playa del Carmen is a great place to do it!
12: Visit Playa Del Carmen's Beaches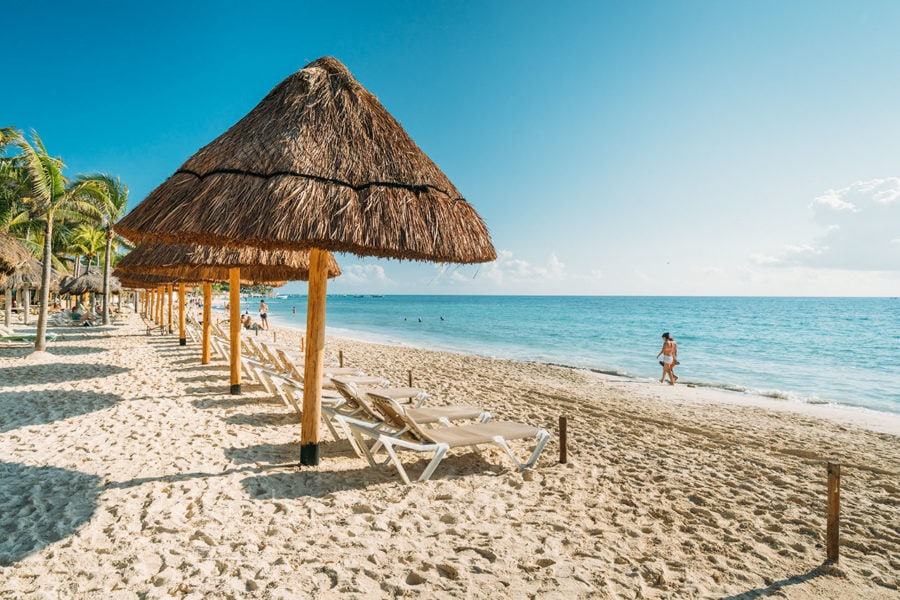 Best Beaches in Playa del Carmen
Playa del Carmen's beaches have been hit be erosion pretty badly over the past few years, and frankly the beaches down in Tulum are a lot nicer, however, you can still find a spot to soak up the sun while enjoying a fruity drink.
Mamitas Beach
One great place to lay out in the sun is Mamitas Beach Club. You can rent lounge chairs with umbrellas, go jet skiing, parasailing, or take a sailboat ride. This is kind of the "party" beach where people go to be seen.
Playacar Beach
Another good beach is in front of Playacar Phase 1 Community. While the gated community is private, the beach is public. Just walk a few minutes South from the Cozumel Ferry Pier. Fewer tourists, more sand, and just a nicer beach. There are no services out there — bring your own food/beverages.
Punta Esmeralda Beach
This is a busy public beach at the far North end of Playa del Carmen, with more locals than tourists. At Punta Esmeralda there's a limestone sinkhole/cenote that's connected to the ocean that acts as a protected swimming spot for kids.
13: Walk Playa's Famous 5th Avenue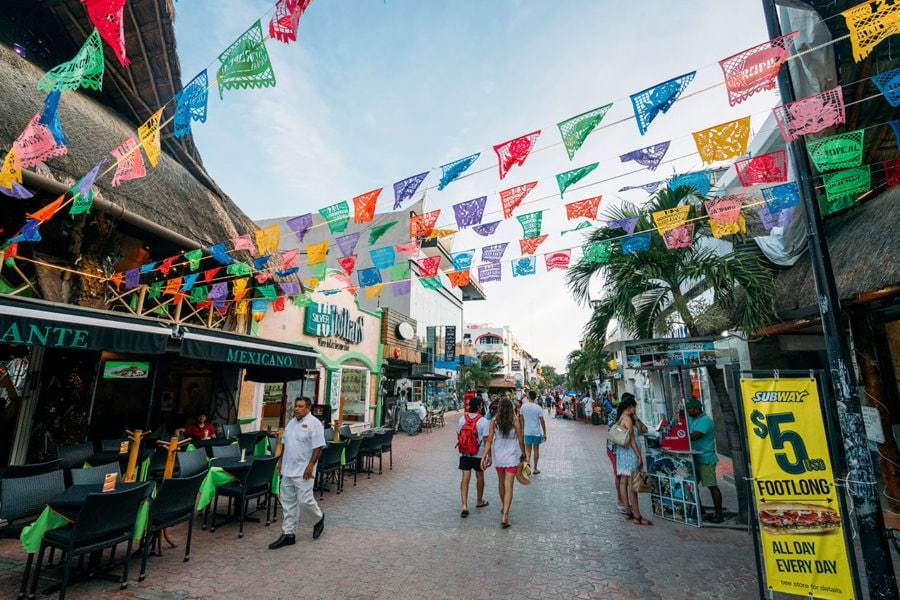 Walking 5th Ave in Playa
You can't visit Playa del Carmen and miss walking down , aka 5th Avenue. It's the main walking-street lined with all manner of shops, beach bars, and restaurants.
The cobbled-stoned street is where you'll find most of the city's nightlife. It's a lot of fun to find a bar or cafe, sit down, and watch the (sometimes strange) parade of people walk by.
You can spend hours wandering down the street, stopping into touristy shops, cafes, and trying different vegan smoothies. At night, street performers line the sides dressed in costumes, or breakdancing for tips.
14: Relax On A Rooftop Pool
After a busy day exploring the sights of Playa Del Carmen, what better than a cocktail while lounging by the pool.
Unlike many of the rooftop pools in the area, the Be Playa pool champions a laid-back atmosphere and provides a welcome escape from the loud music of the surrounding hotels.
Attracting many locals and expats for this reason, Be Playa's rooftop is small but cozy and a real treat after a long day. There are even a few tables and chairs that sit in the shallow water.
15: Xpuha Beach Day Trip
South of Playa del Carmen, but before Tulum, there are two great beaches that make for a great day trip away from the larger crowds.
A 20-minute drive will bring you to Xpuha Beach; a stretch of beautiful white sand lies interspersed with beach bars and restaurants.
The beach entry fee is 50 pesos, and you can rent beach chairs, umbrellas, snorkeling equipment, and kayaks here too.
16: Sunbathing At Xcacel Beach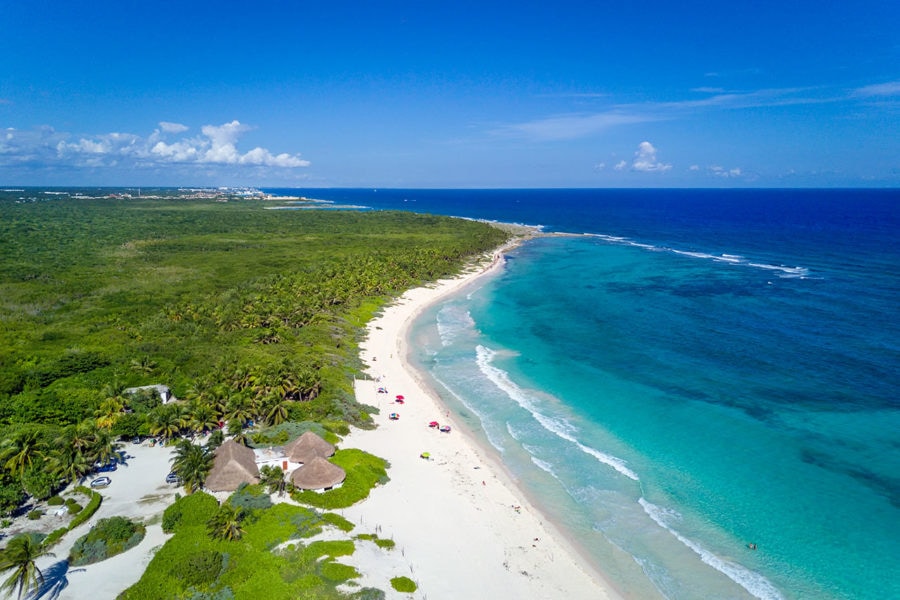 Beautiful Xcacel Beach!
A bit further south you'll find Xcacel, one of my favorite beaches in the Yucatan Peninsula. The ocean is a bit rougher than at Xpuha, but there's also a freshwater cenote to cool off in.
May-October is sea turtle nesting season, and some areas of the beach may be roped off to protect buried turtle eggs. If you're a good swimmer, there is some decent snorkeling on the North side of the beach.
The entry fee for this beach is 10 – 20 pesos (for sea turtle protection). This remote beach doesn't really have many services, although there are bathrooms.
17: Alux Cave Restaurant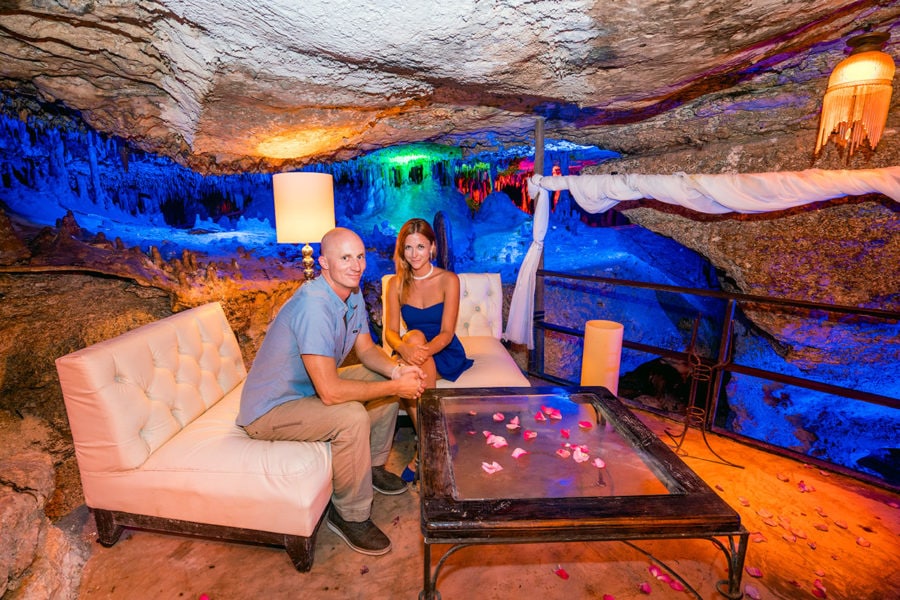 Restaurant in a Cave?
For an upscale dining experience, check out Alux, the restaurant built inside an underground cave!
Aluxes are supernatural spirits who protect Mexico's sacred places.
Colored cave lights created a mysterious atmosphere, while waterfalls set the tone for a romantic evening.
After dinner, make sure to ask for a quick cave tour, because the whole complex is MUCH bigger than it first looks! You may even see a bat or two flying around.
18: Frida Kahlo Museum
Frida Kahlo is one of those artists you either know or you don't. A local icon in Mexico, Frida created portraits and self-portraits inspired by the nature and artifacts of Mexico; mixing realistic images with fantasy.
The Frida Kahlo Museum doesn't contain any original works of art, but it does embrace the life and works of Frida Kahlo; giving visitors a chance to learn about her controversial art through photos, videos, diagrams, and collages.
Everything is very artistic and colorful, right through to the inevitable tourist gift shop, and it's worth a visit if only for a little while!
19: Eat Some Street Elote Or Esquite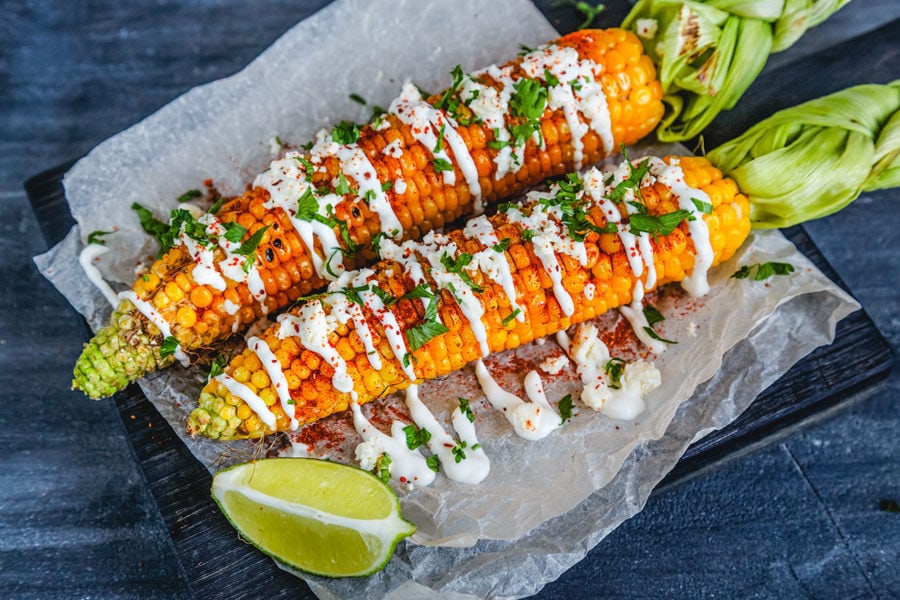 Mexican Street Corn!
Elote is essentially corn-on-the-cob, roasted on an open grill with a decadent coating of salt, chili powder, butter, lime juice, cotija cheese and mayonnaise.
Esquite is basically the same, only the corn kernels have been removed from the cob, boiled, and are served in a little cup mixed with different ingredients.
The best elote and esquite in Playa del Carmen can be found sold from carts on the main drag of Avenida Benito Juarez — especially in the evenings.
20: Rent A Jet Ski In Playa!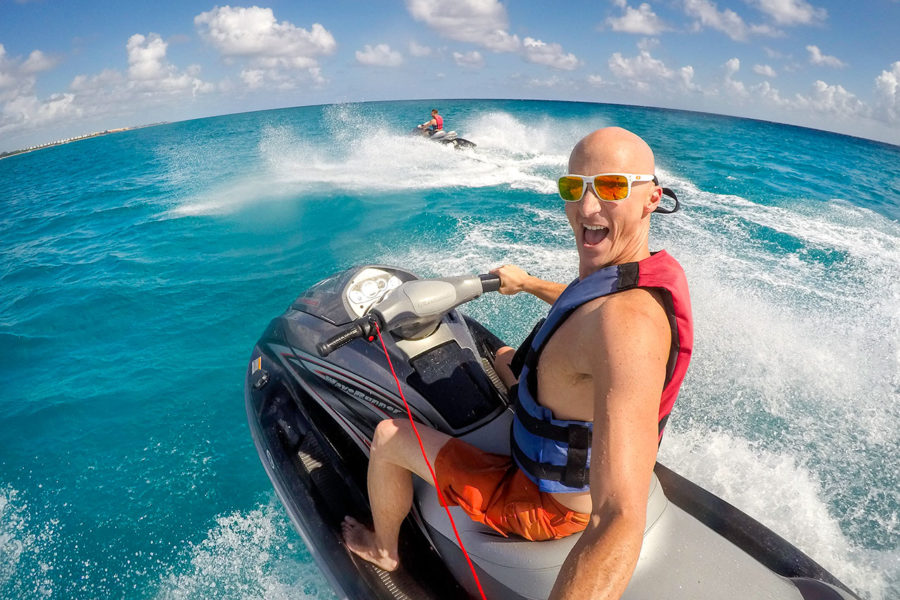 Racing Jet Skis off Mamita's Beach!
I'm sure I don't need to do much convincing here – who doesn't want to whizz around on a jet ski as part of their holiday? Particularly when the location is as stunning as Playa Del Carmen!
Mamitas beach is probably the best place to rent a jet ski and drive it like you stole it… The flat seas offer a speedy and exhilarating ride, making jet ski hire well worth the cost!
21: Take A Sailing Trip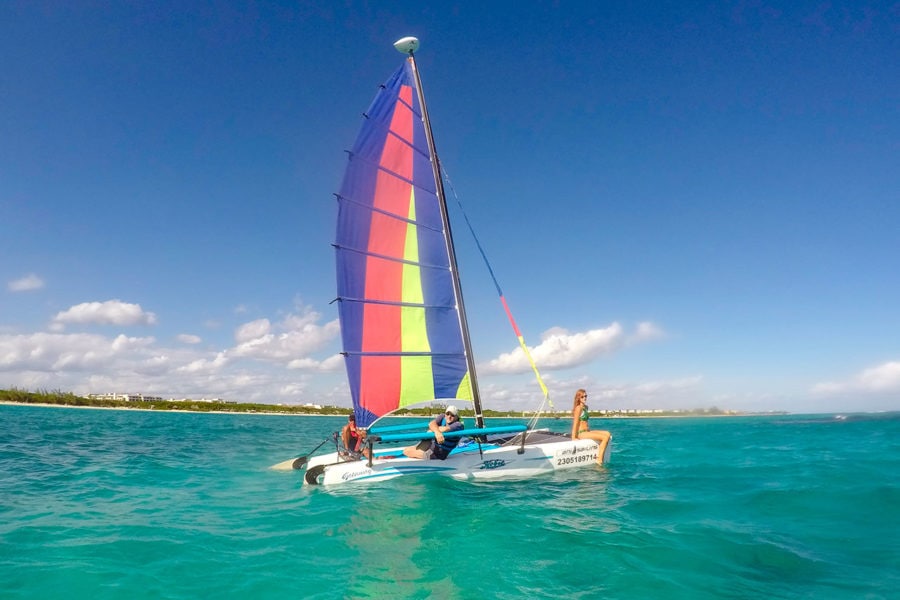 Take a Sailing Trip off the Coast
From booze cruises to full-day sailing tours, the opportunities for getting out on the water are never-ending in Playa Del Carmen.
While the booze cruises are great for spring breakers, I prefer more relaxing trips to coral reefs for snorkeling. For the most romantic option, there's also sunset sailing catamaran trips.
Another option is to simply rent a smaller sailboat (with a captain) right from the beach (like Mamitas) and cruise around the local reefs and do some snorkeling for an hour or two.
22: Sunrise Stand Up Paddle Boarding
You still haven't seen the ocean in its true beauty until you do a sunrise paddle board session. The Aloha Paddle Club offers sunrise sessions for mixed groups.
Paddleboarding is available for all levels and abilities, with instructors present to provide guidance to anyone who may need it. An incredible way to appreciate the sunrise!
23: Grab An Acai Or Quinoa Bowl
Bio-Natural is an organic store and vegetarian restaurant, with plenty of vegan offerings and healthy options. It's extremely popular in Playa.
Their fruit bowls are made fresh from scratch you can be sure that any dietary requirements you have will be taken care of. They also have some awesome cold-pressed juices.
Bio-Natural is worth a visit – particularly for the health-conscious! I often came here for breakfast, choosing the healthy & hearty quinoa bowl with a glass of carrot juice.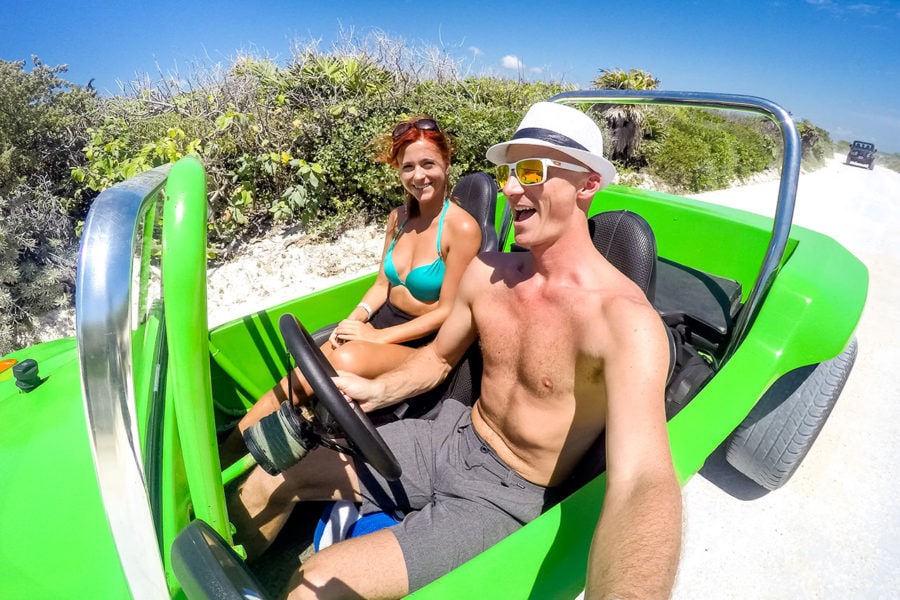 Cruisin' Around Mexico!
Getting To Playa Del Carmen
Flying To Cancun
Playa del Carmen has a VERY small airport, but the most economical way is to fly into Cancun and drive down (bus, shuttle, or rental car). Check for Cancun flight deals on Skyscanner and read my guide with tips for finding cheap flights.
Renting A Car In Mexico
The best site to book your car is Discover Cars. They search both local and international car rental companies to help you find the best possible price. This is the easiest way to rent a car in Mexico.
Traveling By Bus
The cheapest way to get to Playa del Carmen from Cancun airport is the ADO Bus System. A ticket only costs about $10 USD and the trip takes just over an hour.
Airport Shuttle
There are a bunch of airport shuttle services offering rides from Cancun airport to Playa del Carmen, and they'll be sure to harass you at the airport exit. In my opinion, they are overpriced and taking the bus is much better. As long as your hotel is in the city itself (so you can walk or take a taxi).
Where To Stay In Playa Del Carmen
Playa has become a popular tourist hub for travelers to base themselves while exploring the Yucatan Peninsula. If you're wondering where to stay in Playa del Carmen, here are my recommendations depending on your budget.
---
---
Playa Del Carmen Tips & Advice
The best time to visit Playa del Carmen is between October – December. Busy season in the area starts in December and goes on through March. There's great weather in the winter, but many more tourists too.
What happens if you get stuck with a rainy day? Well, you can always go on a Rio Secreto cave tour! Another fun thing to do is visit the 3D Museum Of Wonders.
If you're looking for fun festivals and events in Playa del Carmen, I recommend checking out the Sacred Mayan Journey around the end of May, Semana Santa Holy Week in late March, and Day Of The Dead on November 1st.
If you're vacationing in Mexico and want something different than Cancun, you really can't go wrong by basing yourself in Playa del Carmen to explore the best of what the Yucatan Peninsula has to offer. ★
---